[ad_1]

Mads Ostberg says he would be prepared to step down to the World Rally Championship's WRC2 class next year in order to get his career back on track.
The former Citroen and M-Sport factory driver started the 2017 season late and struggled to make his private Onebet World Rally Team Ford programme financially viable.
He ended up contesting eight of this year's 13 WRC rallies and withdrew from the German round after originally announcing plans to compete there in a WRC2 Fiesta R5.
Ostberg has put his Ford Fiesta WRC up for sale (for £510,000) and said he would not try to run as a full private outfit without the necessary backing again.
"It was tough," he said. "The costs were enormous, but we really tried hard and we were the only ones who were doing this with the 2017 car and we can't do it like this again.
"We had a good team and when everything was working it was good, we really had the technical side of the car going really well.
"For next year, everything is possible. I'm talking to so many people right now. It could be two rallies or it could be 12."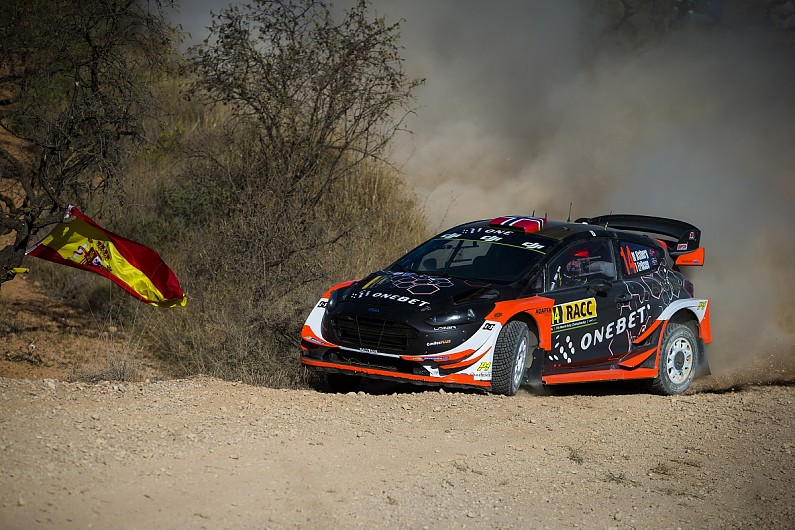 Ostberg said he would consider running an R5 car in WRC2 in 2018 but added he would need to be up at the sharp end.
"I would expect to win [WRC2] rallies or be near the front and really competitive," he said.
"If I take this step back then I have to be [winning], if I'm not that's really proof that I need to go and do something else, and I really don't want to do that."
Andreas Mikkelsen and Elfyn Evans both stepped back to WRC2 after running out of top-class options, but Ostberg said they had the advantage of a background in the WRC's second division.
"There would be a lot for me to lose if I went to WRC2," Ostberg continued. "And it would be tough, there are going to be good drivers there.
"When you look at Andreas, he competed in S2000 and in WRC2 – he knew about this class and I really don't know so much.
"You're in a different place [in the running order] and you can have a different rally.
"I have to do something. I'm going to fight, I'm not going to give up on what I have. I'm only 30 and I have a lot of years in this sport ahead of me.
"I know I still have plenty of potential and I can feel that inside me – that's why I'm pushing so hard to get everything fixed for 2018.
"I have more motivation now than I ever had and I feel I'm driving as well, if not better, than ever. I want to get back to being a factory driver."
Ostberg added he would start his 2018 WRC campaign at the second round of the season in Sweden.
The 2018 World Rally Championship will be launched at Autosport International, held on January 11-14. For ticket information, click here.
[ad_2]

Source link