[ad_1]

Twelve manufacturers are represented on the first draft of the entry list for the Suzuka 10 Hours Intercontinental GT3 Challenge round in August.
Four of the five manufacturers to register for the series that combines four of the big GT3 enduros around the world are on the 27-car provisional entry for the August 26 event.
Porsche will be represented by the factory Manthey team, which is also contesting the Blancpain GT Series Endurance Cup, with a solo 911 GT3-R this season.
Additional Porsches are entered by Super GT and Super Taikyu endurance series regular D'station Racing and the Japanese Nissoku team.
Two Audi R8 LMS GT3 cars are on the entry, one for a team that has to be confirmed and one for Super GT regular Hitotsuyama Racing.
M-Sport and Strakka Racing, respectively Bentley and Mercedes' full-season entries, have confirmed their participation.
The Japanese Goodsmile Racing team (pictured below), which contested last year's Spa 24 Hours IGTC round, and RN Sports will field further Mercedes-AMG GT3s.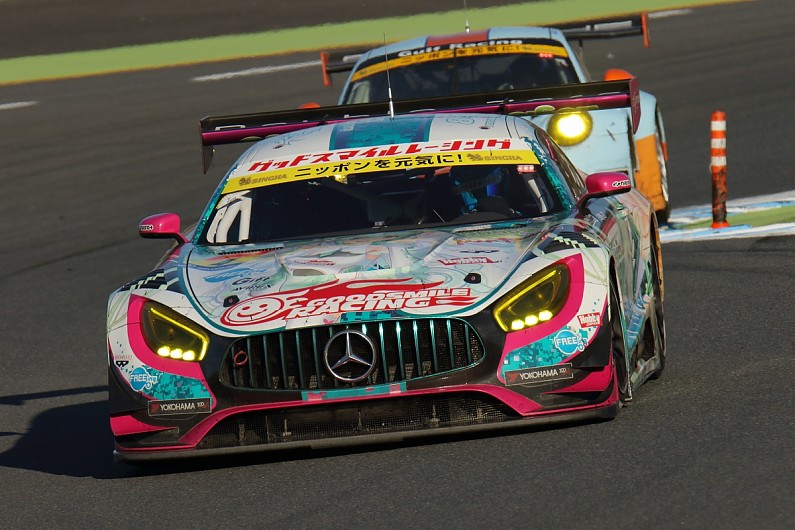 McLaren, the other full BGTC entrant, has yet to announce its plans for Suzuka.
The registered manufacturers are allowed to nominate up to four cars to score IGTC points at each round.
The Japanese Lamborghini Owners' Club team, which has competed four times at the Le Mans 24 Hours, will field a pair of Huracan GT3s for Lamborghini, which signalled its intent to compete at Suzuka last year.
Latest-specification Nissan GT-R NISMO GT3s will be run by the Gainer team and 2015 Le Mans LMP2 class winner KCMG, which is contesting the BGTS Asia series with Nissan.
Team AAI, which has also competed at Le Mans, will field a BMW M6 GT3, while Taiwanese entrant HubAuto and ARN Racing have entered Ferrari 488 GT3s.
Callaway Competition will join forces with Bingo Racing to run a Chevrolet Corvette C7 GT3-R.
Two teams have confirmed entries with the Honda NSX GT3 – CarGuy Racing and Modulo Drago Corse.
The event also allows non-GT3 cars competing in the Super GT300 class to take part in the Suzuka 10 Hours
Cars Tokai Dream28 will field a Mooncraft-developed Lotus Evora and Team UpGarage a Toyota GT86 MC.
[ad_2]

Source link