[ad_1]

Stewart-Haas Racing's Clint Bowyer says ending his 190-race win drought in the NASCAR Cup series at Martinsville was a "weight off the shoulders" after questioning whether he would win again.
Bowyer's last win prior to his Martinsville triumph on Monday came in 2012 at Charlotte, which at the time was his eighth Cup win.
Having won at least one race in five of the previous six years between 2007 and '12, his winless streak meant he failed to add a ninth victory for more than five years.
The Martinsville win was his first for SHR in his second season with the team, and Bowyer said he was fortunate that team co-owners Tony Stewart and Gene Haas had faith in him at the age of 38.
"Let me tell you something, Gene Haas, Tony Stewart, to give this old dog a fresh chance and fresh blood with a new opportunity and finally to get the #14 in victory lane is just a weight off the shoulders," he said.
"It's been a long time. You start to question if you can get it done or not."
Bowyer added that having 2015 Cup champion Kyle Busch battling him for the win caused a nervy finish.
"To keep Kyle Busch, one of the best in the business, behind you in those closing laps, the nerves were through the roof," he said.
"It's unbelievable how it all came true and to have everybody [his family] here."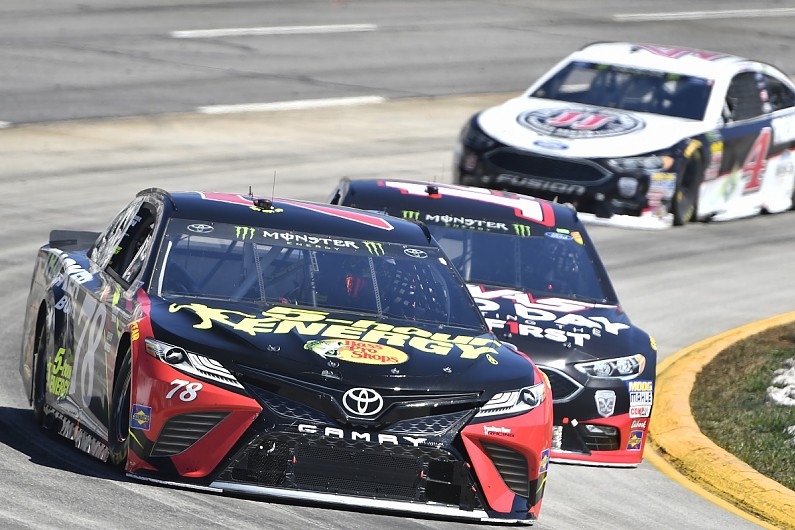 Bowyer's win proved popular in the paddock, with reigning champion Martin Truex Jr (pictured above, leading Bowyer) comparing Bowyer's drought to his own of 218 races without a win that he ended in 2013.
"I know exactly what he [Bowyer] feels right now," he said.
"It's so hard to win these races and come back from being in places that he was and I was with teams that weren't as competitive.
"Climbing back in and digging your way out of them holes is tough. [I'm] really happy to see him back in victory lane, it's pretty cool to see.
"They [SHR] have started the year off strong. He's always been strong here at Martinsville [where Bowyer has recorded three top-three finishes].
"I know this place is special to him and it's really cool to see him win today."
[ad_2]

Source link