[ad_1]

Get unlimited access
You have 10 articles remaining to view this month.
Josef Newgarden says he could not believe how long his IndyCar rivals stayed out on dry tyres in the rain in a "really risky" attempt to beat him at Barber.
Newgarden dominated the dry running at Barber, building a lead of more than 25 seconds before his first of two planned stops.
Dale Coyne Racing's Sebastien Bourdais had conserved fuel in the hope of making a one-stop strategy stick, and Chip Ganassi Racing's Scott Dixon ran several more laps than Bourdais as he looked to pull off a similar strategy.
But rain in the final third threw the race on its head.
Newgarden was the first to switch to wet tyres as his two rivals tried to extend their runs on slick compounds, with Andretti's Ryan Hunter-Reay – who briefly got ahead of Newgarden – also trying a short-lived slick gamble.
Bourdais and Dixon eventually had to concede defeat as both slowed significantly in the wet conditions before changing to slicks late on, and Penske driver Newgarden said he was stunned by their choices.
"[That was] more eventful than I would have liked," he said. "It seemed like smooth sailing for the most part.
"We weren't having any yellows, which we were hoping [for] no yellows today.
"But then that rain crept in and I couldn't believe how long everyone stayed out.
"It was really risky what they were doing, but I understand why they were doing it. I'm glad we made the call to come in so soon."
When Newgarden was asked if he was aware of Bourdais remaining on slicks, he said: "Yeah, I knew what he was doing.
"It was the same thing with [Ryan] Hunter-Reay when he came up on me, and I asked if he was still on slick tyres.
"At that point, you could still probably manage them, but man it just kept getting worse and worse every lap; so, more and more risky.
"The problem is we put the rains on a little bit earlier to protect [the net lead] and I kind of fried the fronts because, these things aren't designed to work in the dry.
"So I kind of overcooked the front end. And then I had to deal with that when the rain actually came.
"Fortunately we had a big gap. What I think helped us win the race was just building that gap over the beginning part [of the race]."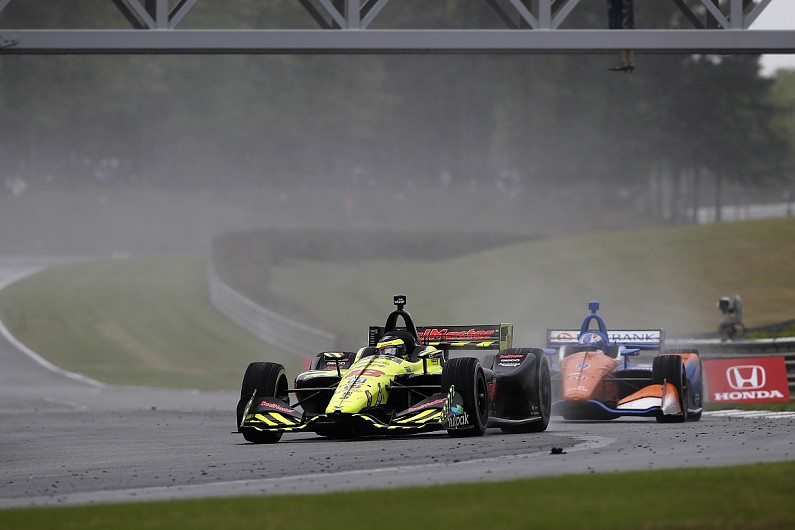 Bourdais stayed in constant radio communication with chief engineer Craig Hampson as they evaluated running the last 10 minutes of the race on dry tyres.
The former Formula 1 driver pitted eight laps before the end and admitted that staying out was the wrong call.
"It was just getting worse and worse," said Bourdais to NBC.
"Dale [Coyne] wanted to go for the win, I tried to give it my best but it lost us more positions in the end.
"It wasn't the right thing to do, but we were going for the win."
[ad_2]

Source link