[ad_1]

Citroen driver Craig Breen says his attempts to avoid paying attention to the Tour of Corsica during his two-month World Rally Championship absence lasted "15 minutes".
This weekend in Argentina, Breen will compete in Citroen's C3 WRC for the first time since finishing second on February's Rally Sweden. He stepped down to make way for nine-time WRC champion Sebastien Loeb on the last two rounds.
Breen said sitting out Rally Mexico and Corsica had been difficult, but added he had been unable to keep himself distracted for long.
"Since I was eight I was out there competing pretty much week-in-week-out, so to be twiddling my thumbs for eight weeks hasn't been the easiest of things," Breen told Autosport.
"I'd gone under the radar to get myself into a local kart race in Italy [before Corsica].
"I'm good friends with Robert Kubica and I bought a 125cc gearbox kart off him – I love it and I'm out in it most days.
"But when the race got nearer, I got the flu and I wasn't going to be fit so I had to pull out.
"On the first day I went away to the kart track anyway, turned off all social media and told myself I wasn't going to listen or watch anything [WRC-related].
"That lasted for all of 15 minutes, until I was back off the track and working on the kart – I started listening and heard Seb was off. I was gutted for him and the team."
Breen said he was more interested in building confidence on the remaining rallies to be better placed to win them in 2019 than scoring his first victory this year.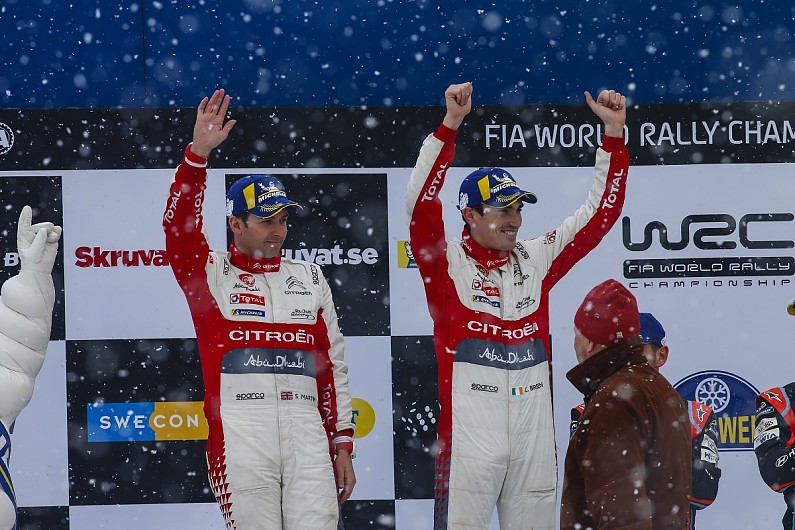 "There are some rallies this year where I'm looking to tick the box with a win," he said.
"But the primary focus for me is to leave every rally knowing I can come back and fight for the win next year.
"When we left Sweden, that feeling was there – I was so confident I was in no other state of mind other than to be fighting to win it next time we're there.
"Compare that to last year when we left rallies like Argentina, Sardinia, Portugal and Finland struggling for confidence and you can see how far the team and the car has come."
Breen and team-mate Kris Meeke both start this week's Argentina round with a new set-up on their C3s, with Citroen introducing new rear geometry for the car in South America.
"It's definitely helped a lot," said Breen, who tested the set-up in Portugal for the first time last week. "I'd reserve judgement before I described it as a eureka moment, but it's a real step.
"The guys [Meeke and Loeb] did a bit of work with this before Mexico.
"You can take so much confidence from the rear of the car now. Before, any time you put energy, yaw or angle into [the car] you were always a little bit afraid of the rear."
[ad_2]

Source link