[ad_1]

Get unlimited access
You have 10 articles remaining to view this month.
Chip Ganassi Racing's Scott Dixon says he and the team are "struggling" to break the slump of a "rough" start to the 2018 IndyCar season.
Dixon has won just three races since his 2015 IndyCar title but was in contention to win the championship last year in the season finale at Fontana.
The four-time champion got himself into contention for a podium with a one-stop strategy at Barber on Monday, running further than his rivals, but lost time with a pitlane limiter problem and was then forced to give up on his strategy when it rained late on.
That meant he could only tie his season-best result of sixth, leaving him seventh in the standings, and rueing his start to 2018.
"Yeah, [it's a] rough start to the season," he said. "I think the one-stop strategy would have put us third [at Barber] quite happily but obviously the rain mixed things up.
"I think we maybe pitted two laps too late [for wet tyres] in that situation, lost a bunch of track time.
"[Sebastien] Bourdais did the same thing and we found ourselves at the end [battling him] there. The car was fast, it was good on fuel mileage.
"I don't think the #5 [James Hinchcliffe] or the #6 [Robert Wickens] would've made it had it been dry to the end. But it is what it is.
"We can't seem to break out of this funk right now and hopefully we can get on our way shortly and get some good results."
Dixon explained that he lost time in the pits on each stop because of an electronic failure.
"We lost all wheel-speed sensors which is quite odd," he said. "You might lose one and have failsafes for that.
"We lost both fronts which made it impossible and you have to go off rpm [in the pits].
"And then you try and play it really safe, so we were way down on pitlane, probably losing two or three seconds each stop just in that function.
"At least we salvaged some points but to be honest nothing to be happy about."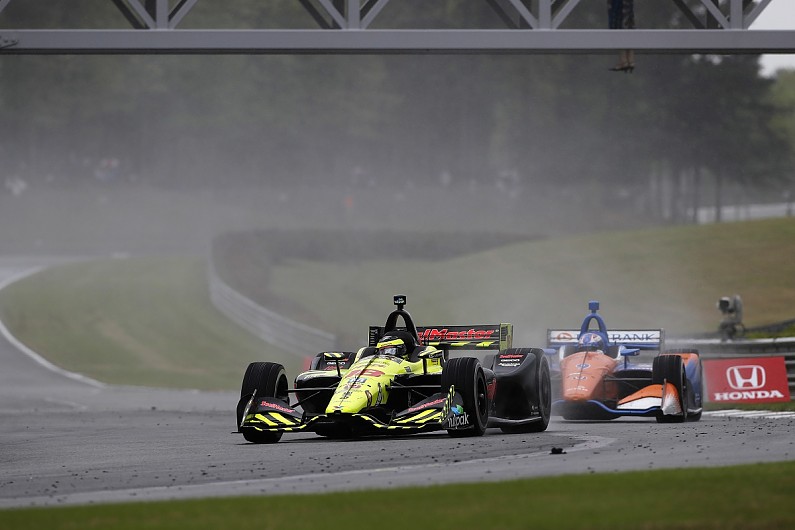 Dixon spent the final corners of the last lap side-by-side with Bourdais in a battle for fifth but lost out on the long straight to the flag, taking sixth.
The Ganassi driver says a mistake with push-to-pass cost him the place.
"I was going to run him wide at Turn 16, but he gave me the room earlier and then obviously he gave me the room on the exit," he said.
"As soon as I lifted a little bit more because I was running out of track, it turned the OT [push-to-pass] off, he had got to the OT and before I realised mine was off it was too late.
"Had the OT stayed on I think I would have got him on the line."
[ad_2]

Source link