[ad_1]

Get unlimited access
You have 10 articles remaining to view this month.
The Williams Formula 1 team is not under the illusion it has made the progress its Azerbaijan Grand Prix qualifying performance suggests, according to chief technical officer Paddy Lowe.
Lance Stroll and Sergey Sirotkin were 11th and 12th fastest in qualifying and will both gain a position from Nico Hulkenberg's five-place gearbox penalty.
Stroll ended up just 0.103 seconds away from getting a Williams into Q3 for the first time in 2018 and his time was 2.087s off Sebastian Vettel's pole position – with the team's previous best performance this season a deficit of 2.967s in China.
But Lowe warned that while Williams has taken a step forward, circuit characteristics have contributed to its improvement and it does not represent a transformation of the team's form.
"It's great morale for the team to get two cars into the top of Q2 and almost into Q3 and underneath that there are some incremental improvements we've made in all sorts of areas, whether to the car or operationally," said Lowe when asked about the step forward by Autosport.
"But on the other hand, this circuit suits our car well, it was the same last year.
"We're not under the illusion that we've made this much progress in terms of overall performance."
Sirotkin, who made a mistake in the final corner on his final Q2 lap thanks to a gust of wind and believed he could have gone quicker, suggested the improvement was partly down to improvements made and partly down to the track configuration.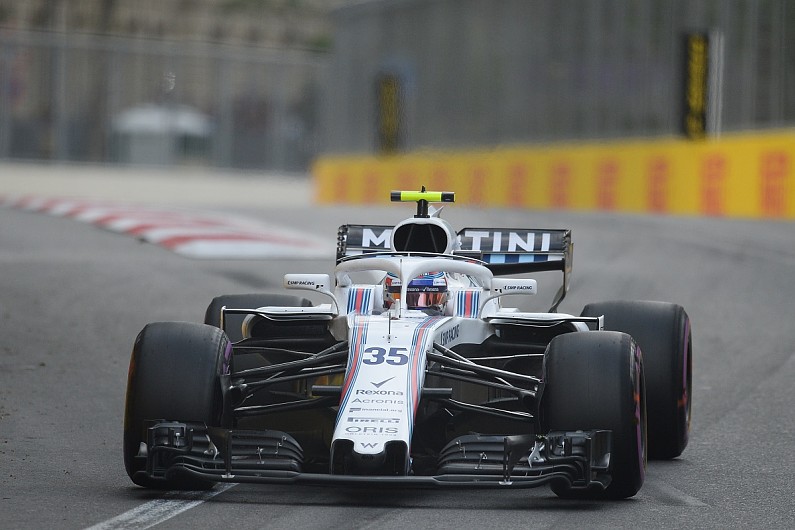 The majority of the corners at the Baku circuit are short, slow-speed turns that do not expose the weaknesses of the car as much as those on an orthodox circuit might.
"We saw in China we were once P10 in practice and coming, now we have a couple of times in the top 10 and we were right behind in the end," said Sirotkin.
"It's quite obvious that we are step by step coming to where we want to be.
"It's not all up to pure progress we made with the car; half is obviously the improvement and the understanding with the car and the other half is the track.
"It's still not the best track for us, but it probably has less painful corners for us than some other tracks should have and some of our weaknesses are less visible on this track."
Lowe does not believe Williams benefiting from the Mercedes-powered teams being allowed to make greater use of the most potent power modes of the engine package explains its step forward.
Force India's Omar Szafnauer suggested earlier in the weekend this could be worth up to a tenth of a second in qualifying.
"People will talk a lot about that but if that was a factor then you would see the same differentials emerge with the top three teams and you would see Mercedes massively quicker at this race compared to the other two," said Lowe.
"I don't believe it's the explanation."
[ad_2]

Source link