[ad_1]

Get unlimited access
You have 10 articles remaining to view this month.
Sunday's Talladega NASCAR Cup race could be "nuts" given the rule changes made following practice, say leading drivers.
The restrictor plates fitted to limit horsepower and control speeds at superspeedways already mean cars run in large drafting packs and big accidents are common.
This year NASCAR lifted its minimum ride height rule for Daytona and Talladega to bring the superspeedways in line with other tracks.
But following Friday practice at Talladega – where Jamie McMurray was involved in a large aerial accident after a puncture – NASCAR had to reduce the size of the restrictor plates because cars were averaging speed over 203mph.
With no more practice sessions, only Saturday's qualifying, between Friday and the race there has been very little running with the new plates, and Stewart-Haas driver Clint Bowyer said the event is "going to be nuts".
Penske's Brad Keselowski said the combination of the ride-height rule change and the restrictor plate tweak left the race full of unknowns.
"This year it seems as though the cars are quite a bit different than they have been in my history here," he said.
"They are a lot faster and handling quite a bit worse.
"I told somebody today that I felt like I was in 1985 with the way the cars are driving.
"I expect a little bit of a different race than what we have seen here. I am not really sure exactly what to predict."
Pole-winner Kevin Harvick said the lack of any practice running meant it was hard to predict the plate change's effect.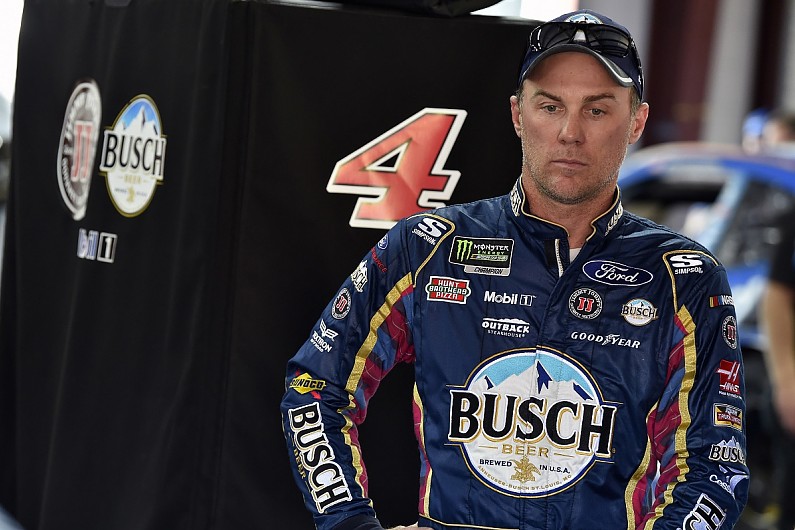 "We never really saw what the speeds would be with the other plate in the cars in a complete pack," he said.
"With the cars so low and the way the suspension rules are, the cars have a lot less drag.
"I think the cars are still going to be on the top end of probably where everybody wants to see them."
His Stewart-Haas team-mate Kurt Busch believes drivers will be wary of pushing too hard to win the race's intermediate stages.
"Right now with the ride height balance and the handling on the cars, I have never really seen this much uncertainty going into a plate race before," he said.
"Everyone has their hands full. Handling will be at an all-time premium.
"I think the race will be about being patient, the old-school mentality of protecting your car and putting yourself in position to win.
"I don't think the stage points are going to be the target for us.
"We want to go after the big trophy at the end of the day and that is going to come from a patient race."
Austin Dillon, who won the season-opening Daytona 500, believes the increase in pace since then is partly due to teams better mastering the 2018 rules.
"People have got better since Daytona," he said.
"I feel like people have figured out the package probably more since Daytona. "That might be some of your faster speeds too."
[ad_2]

Source link