[ad_1]

Get unlimited access
You have 10 articles remaining to view this month.
Increased speeds making cars worse to drive on restrictor-plate tracks led to Sunday's Talladega NASCAR Cup Series race being "unusual", say leading drivers.
This year NASCAR dropped its minimum ride height rule for Daytona and Talladega to bring the superspeedways in line with other tracks, meaning early weekend speeds reached over 200mph for last weekend's event.
The restrictor plates, designed to limit horsepower and control cornering speeds, normally create pack racing.
But Jamie McMurray's airborne accident after a puncture in practice forced a late revision to the restrictor plates and led to fears Talladega would be "nuts".
The race had a significant amount of single-file racing with few attempts to create second and third lanes of running, which surprised Stewart-Haas Racing's Aric Almirola.
"It was an unusual Talladega, the cars are a big handful," said Almirola.
"They keep getting them lower and lower and lower, and we are going faster and faster and faster, but the cars just drive worse.
"It is a lot harder to run in a big pack three and four-wide all day long. You definitely saw it kind of file out with pit strategy and a lot of that stuff."
Kurt Busch, who finished second at Talladega, says that the minimum right height was to blame for the lack of multi-lane racing.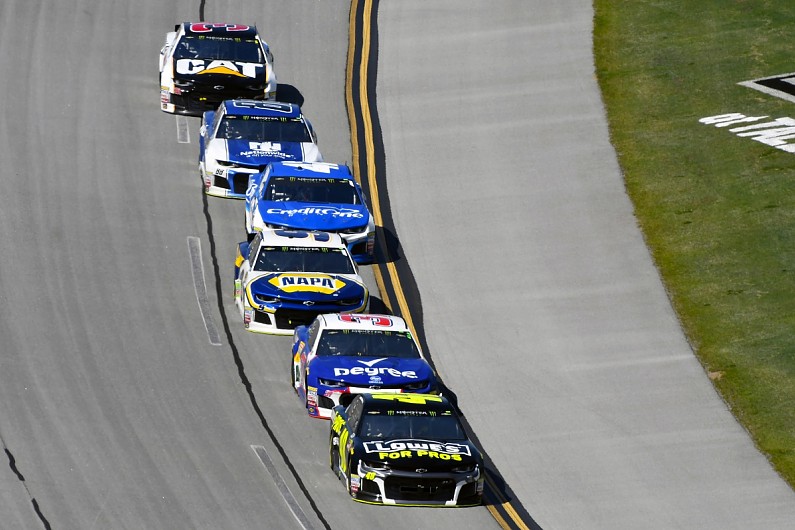 "I feel like the ride height rule dropped the rear of the car even more from where it was at Daytona," he said. When you look at some of the numbers, there's less downforce on the cars.
"These rear spoilers, to me, are way too narrow. They need to be all the way out to the edge of the fender so it's easier to side draft off people. That would help with stability and with side drafting."
But Hendrick Motorsports driver Jimmie Johnson said Talladega felt like a regular restrictor-plate race behind the wheel.
"It seemed like a normal plate race to me," he said.
"The cars weren't handling really good, so you had to be very cautious with the runs that you had and where you had them.
"I don't know how that looked to the eyeballs watching from the outside, but inside it seemed like a normal plate race except going 20mph faster with the lower ride heights."
The prediction of a chaotic race did not come to pass, with a relatively small number of incidents.
Johnson caused the biggest crash of the race, when he got into a slide late on and collected over 12 cars, and Martin Truex Jr was caught in a collision between Erik Jones and Jamie McMurray in the early stages.
[ad_2]

Source link