[ad_1]

Get unlimited access
You have 10 articles remaining to view this month.
Danica Patrick admitted she wasn't sure she would complete her veteran refresher test for the 2018 Indianapolis 500 after mechanical problems hindered her return to an IndyCar cockpit.
Patrick will compete in the final race of her career at the Indianapolis 500, and her seven-year spell away from the series meant she had to complete the refresher test.
But her brand-new Ed Carpenter Racing-run car experienced a water temperature problem on her installation lap.
Having lost significant time, Patrick worked her way through the three phases required to pass the test late on in the session.
Patrick said that she was concerned she would not pass the test in the final half an hour.
"The car, it just felt very hard to drive," she said. "The weight of the wheel was very heavy for me.
"I don't know what the heck I've been doing because I feel a lot stronger than when I was here before.
"My old engineer Matt [Barnes, her former Andretti chief engineer] ran me today. He made it easier to drive.
"It's still not by any means where I want it, but it was enough that we could complete today.
"With 30 minutes to go and five laps of the second phase and 15 laps of the third phase together, I'm like 'I don't know if I'm going to get through this today'.
"But I stayed out there and I did all those 20 laps to complete it all. It felt fine."
Patrick added that late set-up changes reducing front aero helped her feel more at ease with the lack of power steering she was accustomed to in NASCAR.
"I felt like I was able to feel the grip limit of the car, especially the front, of course, because [we] took so much front aero out," she said.
"I was really able to feel the front sliding pretty well, even with the way it felt. That's good for me."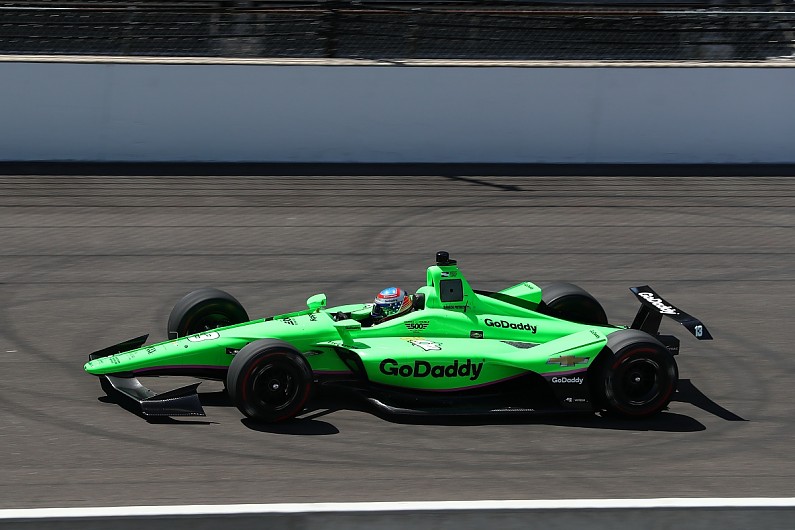 Patrick admitted "low" excitement for her return to the cockpit but she says that's due to relearning the car and missing out on the "fun part" of set-up changes.
"I definitely still feel overwhelmed enough with everything going on, just driving, the helmet moving, all kinds of things going on," she said.
"I'm not looking in my mirrors, checking my dash all the time, moving buttons around.
"I'm not there yet. I did move the front bar around a little bit when I was out there. I did do a couple other little things. Just start simple.
"I've been waiting to get this day over with for a long time, I say that with love.
"I hope there's some understanding for the words that I'm using.
"I want to get through that so I can get to the fun part, which is really running, making changes, making it faster, feeling really comfortable.
"It was just a day of anticipation, a level of not knowing."
[ad_2]

Source link