[ad_1]

Get unlimited access
You have 10 articles remaining to view this month.
Xfinity driver Spencer Gallagher has been indefinitely banned from NASCAR competition for violating its substance abuse policy days after earning his first series win at Talladega last weekend.
Gallagher had been competing in NASCAR's Dash4Cash, a four-race competition for eligible Xfinity season regulars to earn $100,000 per victory.
After winning at Talladega, his ban now means he is ineligible for the competition and cannot compete in NASCAR events for an indefinite period.
NASCAR learned that Gallagher had violated section 19, the series' substance abuse policy, yesterday.
Gallagher has immediately agreed to participate in the Road to Recovery programme, meaning he will work with an "appropriate substance abuse professional" who will advise him on a recovery plan.
The programme administrator will then decide how many times the NASCAR member will be tested over a set period and for what substances.
Gallagher says he made an "error of judgement".
"I recently have had a positive result in a NASCAR drug screen, which has violated NASCAR's substance abuse policy," he said.
"I want to assure everyone in the NASCAR community this one-time error in judgement will never happen again.
"I am taking the steps to enrol in the Road to Recovery programme supported by NASCAR.
"I would like to say that I am sorry to all of the GMS organisation for my actions, especially my team and team owner, who have worked so hard this year and have put faith in me.
"I also want to apologise to NASCAR, Chevrolet and my fans for letting them down.
"I have not upheld the behaviour that is expected of me. I promise you all here and know, I will do whatever it takes to make this right."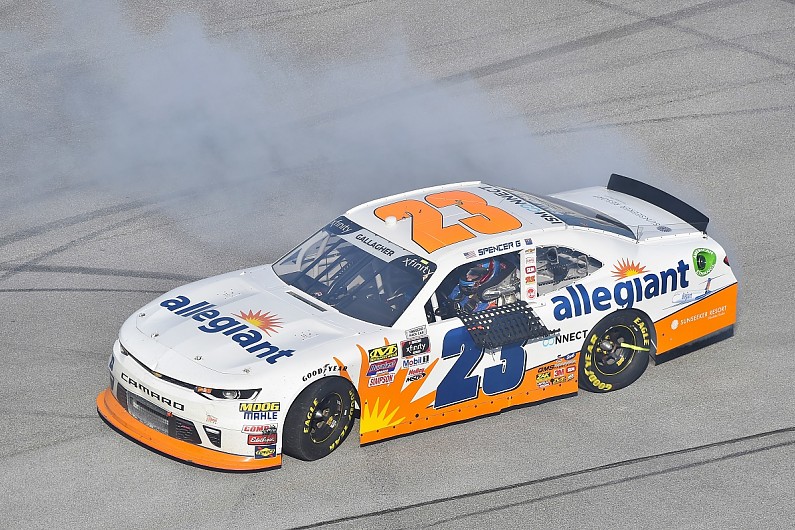 GMS has confirmed in a statement that it will be seeking a substitute driver.
"GMS Racing was notified that driver Spencer Gallagher gave a positive result from a NASCAR drug screen," said team president Mike Beam.
"GMS fully supports NASCAR's policy on substance abuse and we do not condone this type of behaviour.
"First and foremost, our entire organisation wants to apologise to NASCAR, our sponsors, teammates and fans due to this policy violation.
"Spencer has agreed to participate in NASCAR's Road to Recovery programme. A substitute driver will be announced at a later date."
Gallagher had been racing with GMS in 2018 after working his way up to the second tier with the outfit from ARCA Racing and into the NASCAR-operated Camping World series.
He is seventh in the 2018 Xfinity series standings, having had three top ten finishes, which include his Talladega win.
[ad_2]

Source link