[ad_1]

Get unlimited access
You have 10 articles remaining to view this month.
The multi-bike collision in the MotoGP race at Jerez involved the "three cleanest riders" in the category, according to Jorge Lorenzo and Dani Pedrosa.
The crash occurred on exit of the right-hand Dry Sac corner towards the closing stages of the race, and eliminated Pedrosa, Lorenzo and Andrea Dovizioso as they fought for second place behind eventual race winner Marc Marquez.
Dovizioso had lunged down the inside of Lorenzo on the entry to the corner and both ran wide, with Lorenzo crossing over to the right to retake position.
But this led to him clashing with Honda rider Pedrosa, who was by then on the inside of the pair and was sent airbourne, while Lorenzo also lost control and collected his team-mate.
"The images are clear, but to be honest I don't want to speak too much about that or to say 'it is your fault or your fault' because we are the three cleanest riders in the championship," Lorenzo said after the race.
"It was a very unlucky movement for [all of us], and we finished on the ground and we are never [involved in] this type of action.
"Everything happened like domino pieces, very unlucky for all three – especially for Ducati and Andrea, who fights for the championship."
Pedrosa echoed Lorenzo's sentiment: "It happened to three of the most clean riders on the grid, so it was not really something that happened because we wanted it to happen or because we act in this way.
"I think the three of us were doing a very good race and we all deserved to finish in very strong positions today."
But the two riders seemed to have different viewpoints on who bore most of the responsibility for the crash itself.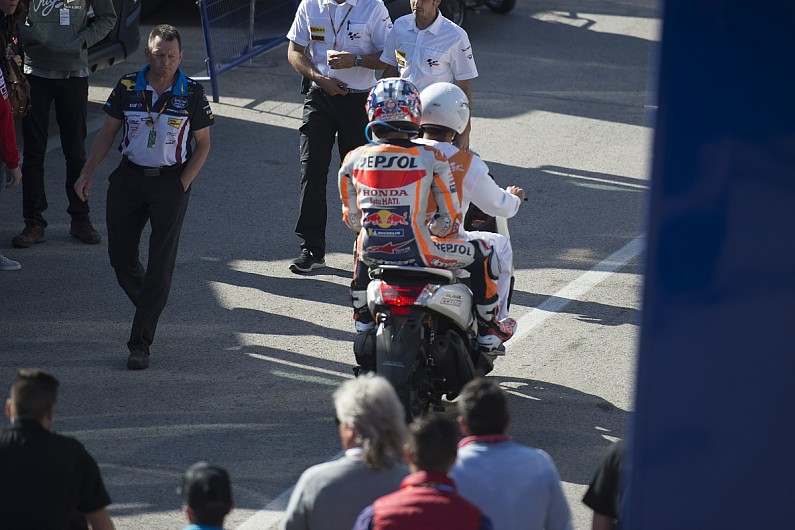 "The thing is that Jorge cut down from Dovi after the pass and he wanted to recover his position and maybe he didn't expect me [to be] there from some reason," Pedrosa said.
"What I can say is that in that moment, there is one point that I'm watching them going wide, but then I start turning and I am completely on the right side of my bike and I can't see anything.
"Lorenzo was leaning on the inside, he can more or less see me, and also because when you go out and you lose the line, you must check to recover the line."
Lorenzo, for his part, said he "obviously" did not see Pedrosa before the crash, and hinted that, as the third rider in the group, the Honda man "has to be responsible".
"The third rider is the only one who has vision of the situation because we don't have eyes in the back of your head," he said.
"I would like to ride with four eyes but it's not possible. [It] is the one behind who has to be responsible, but anyway [it] is Dani.
"Dani, myself and Dovi never are in this action so I don't want to say [it's anyone's fault]."
[ad_2]

Source link