[ad_1]

Get unlimited access
You have 10 articles remaining to view this month.
Aleix Espargaro says he has been promised a "revolution" by his Aprilia team after suffering an "unacceptable" spate of mechanical failures in the opening races of the MotoGP season.
Espargaro ran out of fuel on the final lap of the Qatar Grand Prix, with Aprilia having only just readied its new engine for the season opener.
The Spaniard also retired from Argentina with a mechanical problem, and then pulled up on the opening lap at Jerez, with Aprilia later naming a "loosened screw on the pneumatic circuit" as the reason for the early exit.
Espargaro said that Aprilia has promised him a "revolution" after the latest failure.
"I have no idea why exactly [the engine failures happen], but it's not that I'm very interested.
"I know that Aprilia feels shitty like me and they don't know how to ask me for forgiveness.
"They promise me there's going to be a revolution in [Aprilia headquarters in] Noale this week, they are trying to find a problem.
"I believe in them, I really believe in them, I feel that I want to put the RSGP in the podium, I feel [a] really personal mission.
"In the end, we are all in the same boat and we paddle in the same direction."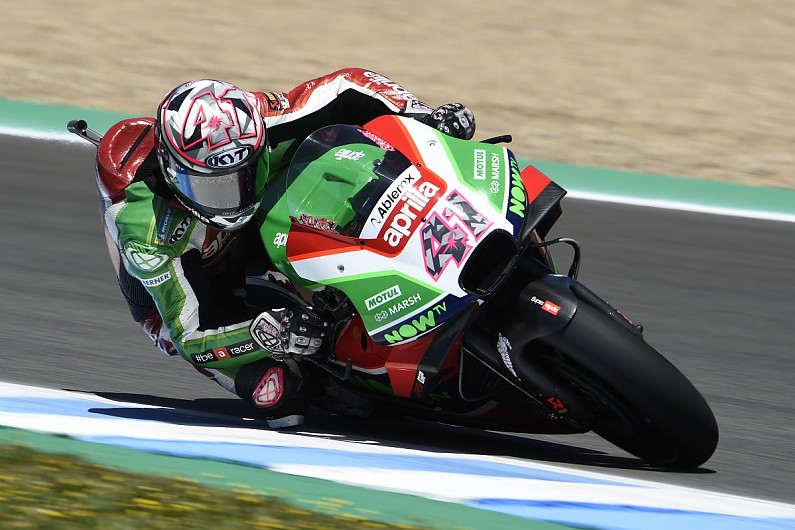 Espargaro said it's "unacceptable" to have three retirements in four races, and he is struggling to "find more energy to be positive".
"I am not even angry, I am really disappointed because [in] four races, [we have] three DNFs because of the bike," said Espargaro, whose only finish in 2018 so far is a 10th place at Austin.
"This is a factory team. If I were 18th or 15th they wouldn't be happy and so they have to do a better job and understand what happens, because three retirements with engine problems is unacceptable.
"I am a really positive guy but I don't know how to find more energy to be positive."
The 28-year-old reckons he could have fought for a podium finish at Jerez.
"After the disaster I saw with the front guys [Andrea Dovizioso, Jorge Lorenzo and Dani Pedrosa], I'm pretty sure that we were able to fight easy for the podium, easy."
Espargaro feels he would be consistently able to ride at the front with a capable bike.
"I'm really down because I feel better riding than ever in my life.
"Sincerely I am not a guy who always speaks about bullshit but I feel I am stronger than ever, I don't think that many riders are faster than me in the track.
"I just need to have the bike and I feel I can be in the front.
"With Aprilia, I feel I can be very competitive even if we don't have the top bike but even like this I feel I can fight for top five, top six every race.
"But we always have some problem, fuel consumption or the bike stops or whatever."
[ad_2]

Source link