[ad_1]

Get unlimited access
You have 10 articles remaining to view this month.
Sebastian Vettel believes Pirelli made "the correct call" in bringing thinner-tread tyres to last weekend's Spanish Grand Prix, admitting Ferrari would have been "worse off" with the standard specification.
After teams struggled with overheating on the resurfaced Barcelona track in the pre-season, Pirelli supplied a modified spec of rubber for the race event, reducing tread thickness by 0.4mm.
Vettel hinted that this was making the biggest difference between Mercedes, which won the race with Lewis Hamilton, and Ferrari throughout the weekend.
He suggested post-race that the new tyres – which will also feature at Paul Ricard and Silverstone – "maybe suited others better than us".
But after logging 136 laps in post-race at Barcelona testing on Tuesday, during which he trialled both the standard and the thinner-tread tyres, Vettel conceded Ferrari would have struggled even more without the change.
"Normally you don't get the chance to revisit these kind of decisions that are made," he said.
"But we did now with the day that we had today, and I think the result is that, if we had the normal tyres on Sunday, we'd probably even be worse off.
"So I think it was the correct call, and it was our fault not to have the same tyre wear or life as other people."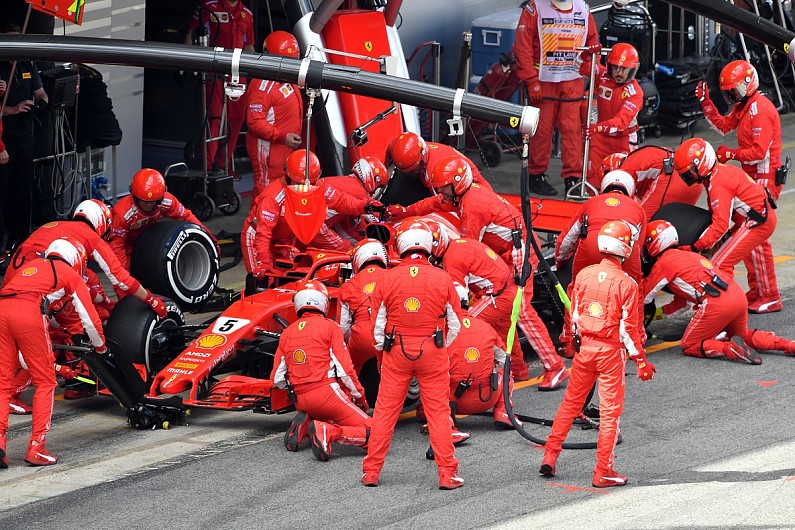 Asked by Autosport whether he felt vindicated by the outcome of Vettel's back-to-back testing of the tyres, Pirelli Formula 1 chief Mario Isola said: "Absolutely. I am very happy, I cannot hide that I am very happy! After a weekend like the last one, yes."
Isola also explained that giving all teams the opportunity to try out the different specifications in the test – something that was planned in advance of the weekend – was so that Pirelli could get a "proper comparison".
"The behaviour of the tyre over the race weekend was in line with our expectations," he said.
"In high temperatures it was avoiding blisters, that is the information we have from the weekend.
"Now it's important to have feedback also on the feeling, the behaviour, this kind of stuff, and I am happy to know that Sebastian said that."
Vettel added that Tuesday's test day, in which he clocked the third-fastest time behind Red Bull's Max Verstappen and Carlos Sainz (Renault), came at an opportune time, as it allowed Ferrari to get a better understanding of why it had had a "poor weekend" in Spain.
"It's good to have the test to be able to compare," he said.
"We have some ideas, and now it's up to us to turn those ideas into reality. "[The test] was quite good in terms of timing.
"It was a poor weekend for us, we were not quick enough. I think more than not quick enough [as] we were obviously struggling to make the tyres last.
"Those two things are linked. But it was good to have the possibility to revisit, and now it's up to us to take action."
[ad_2]

Source link