[ad_1]

Get unlimited access
You have 10 articles remaining to view this month.
Jorge Lorenzo's recent MotoGP woes have been exacerbated by an approach that "doesn't work at Ducati", according to his team-mate Andrea Dovizioso.
Three-time champion Lorenzo switched to Ducati from Yamaha ahead of 2017, but has struggled to adapt to the Desmosedici bike.
Lorenzo is yet to win a race for Ducati, while Dovizioso has claimed seven victories and emerged as a regular premier-class frontrunner in the same timeframe.
During the most recent race weekend at Le Mans, Dovizioso suggested Lorenzo had been too inflexible to get the most out of the Ducati bike.
"To be strong in today's MotoGP is very difficult because there are many aspects to consider," Dovizioso said.
"I don't want to go into too many details, but Jorge was used to riding one type of bike and he had very clear ideas about how to ride and how to work.
"This type of approach doesn't work at Ducati.
"Nothing takes away from what a great champion Jorge Lorenzo was and still is. But the results cannot always be obtained in the same way.
"Rather, for every situation, you must try to be mentally open and adapt to get the maximum out of it."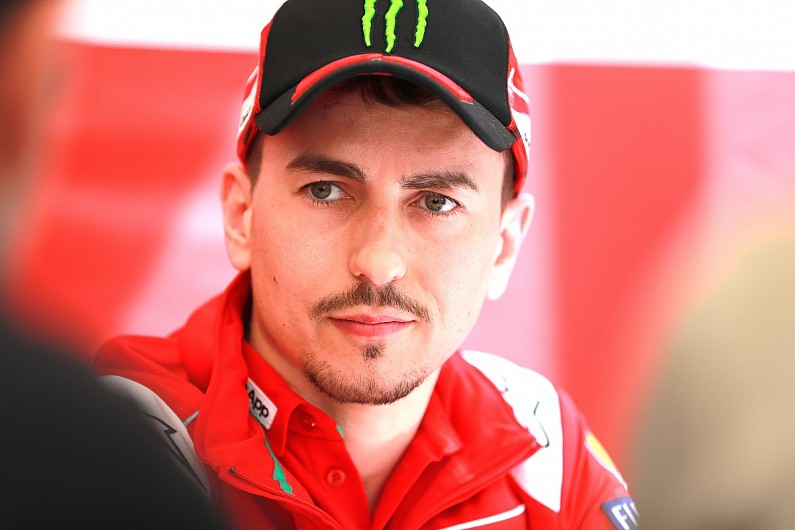 Lorenzo's Ducati form has echoed those of long-time team-mate and rival Valentino Rossi, who left Yamaha in 2011 for an ill-fated two-year stint with the Italian manufacturer.
But when asked about parallels between the two, Dovizioso felt it was necessary to draw a line between the two cases.
"I think that when Valentino arrived at Ducati, the situation was different and the bike was very particular," said Dovizioso.
"I don't want to say that it wasn't competitive, because [Casey] Stoner won races with it, but it was a bike very far away from what we have today at Ducati.
"For this reason we have to distinguish between Valentino's situation and Jorge's.
"The Ducati is now competitive, it's very fast and the riders are doing well. It's not like when Stoner was the only one who could succeed and be fast."
Lorenzo looks increasingly likely to leave Ducati at the end of the current season, as the team is believed to instead favour calling up Danilo Petrucci or Jack Miller from the Pramac satellite squad.
Ducati CEO Claudio Domenicali has expressed his regret that Lorenzo's stint with the manufacturer has not been successful.
"Lorenzo is a great rider who has not succeeded in getting the best from our bike, a bike that has great strengths and some weaknesses," he said.
"Unfortunately neither him nor the technicians have managed to make the most of his talent. "This is a bit of bitterness that remains."
[ad_2]

Source link