[ad_1]

Stewart-Haas Racing's Clint Bowyer says the "gutsy" strategy to take two new tyres in the Michigan NASCAR Cup series race would have left him "in trouble" had rain not arrived.
Bowyer started 12th but made his way into the top five on the opening laps, with that early climb then keeping him in the lead cycle through stages one and two – running second at the end of the latter.
He was then the only driver to pit for fuel and just two new tyres ahead of the third and final stage, with Bowyer's crew chief Mike Bugarewicz making the call while the weather spotter was suggesting imminent rain.
Bowyer defended aggressively from team-mate Kevin Harvick on the restart and across the four laps of racing in the third stage before Ricky Stenhouse Jr caused a caution that turned into a red flag when rain arrived, confirming Bowyer's victory.
"It took something crazy on a restart to be able to get Kevin [Harvick]," he said. "That was a gutsy call.
"When we went out there on two tyres, I looked in the mirror and I was so far ahead of everybody else I was like, 'Oh man, we are in trouble!'
"The rain came just in enough time. I was trying to hold him off. I was cutting him off and taking his line away pretty bad.
"If it wasn't for a win you wouldn't be doing that. He was so much faster than me in [Turns] 1 and 2. I got down in [Turn] 3 and just had to take his line because that bear [Harvick] was coming."
Bugarewicz admitted he doubted his call as his driver left pit road.
"Everything prior to four laps to go we were watching the weather," he said.
"For the longest time I was thinking we're going to run pretty far if not the whole thing in that third segment, probably going to need four tyres at the end of the second stage.
"When we were coming on pit road, I was 100% sure two tyres was the right call. We got about three-quarters of the way down pit road, I was about 70% sure.
"When he slid into the pit box, I was about 50% sure. By then, we were leaving. It was too late."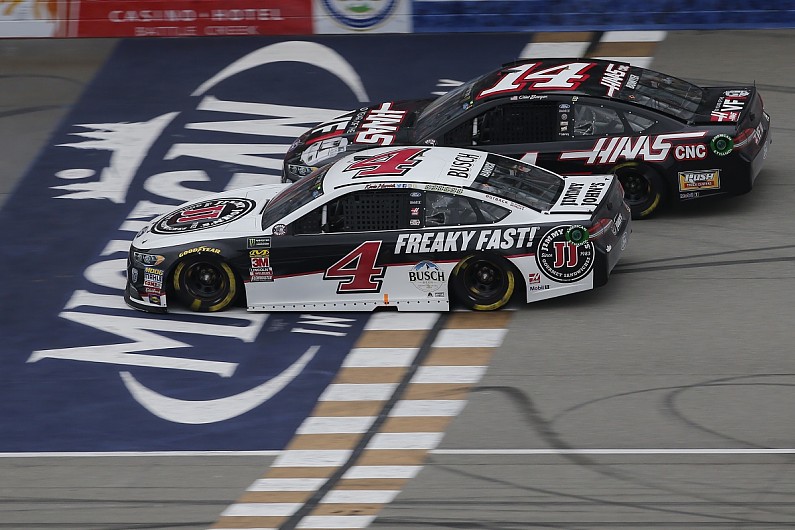 Harvick, who ended up runner-up in a SHR 1-2-3 ahead of Kurt Busch, denied being "pissed" about the stoppage because he "does not control the weather".
"We raced pretty hard, I got fairly loose up underneath him there in [Turns] 3 and 4 when we went down there on the backstretch," said Harvick.
"I drove it in there, he drove it in there [and] slid the back. He was able to get me sliding enough to [the point] where he was able to clear me."
When asked if he raced Bowyer differently to his other rivals because he was a team-mate, Harvick said: "I wouldn't have raced anybody any different."
[ad_2]

Source link