[ad_1]

Aprilia rider Scott Redding has described his RS-GP machine as a "piece of s***" following his 20th place finish in Sunday's Austria MotoGP race.
Redding was fast in the wet at the Red Bull Ring, setting the second quickest time in a rain-soaked Friday afternoon practice session and ending up third in damp conditions on Saturday morning.
But qualifying and the race both took place in dry conditions, with Redding managing only 20th on the grid and the same position in the race, finishing 22 seconds down on team-mate Aleix Espargaro – who ran as high as eighth but dropped to 17th.
The Briton said his strong performance in the wet made his dry struggles harder to accept.
"It's been a fucking horrible weekend," said Redding.
"When the conditions bring the machines closer [together], I can see my potential. I can be fast.
"It just reminded me of how good I actually can be.
"I just accepted it this year, I never had a wet session. But then, this weekend was like, 'You can mix with the best guys in the world when the level comes a bit lower with the machinery'.
"Then it dries, and [I'm] fucking out in the field again.
"To have a race like that is heartbreaking, because I try all the time and it just doesn't get easier. There's always a problem with something, every weekend.
"I've tried to accept it and deal with it, but honestly, it's a bit of a disaster at the moment and I'm not happy. This weekend was a reality check for me. Riding around there [in that position] hurts.
"I have to go to Silverstone, the next race, [and] smile in front of everyone and say I'm gonna do a good performance, and it's all bullshit because you can't do anything.
"You cannot make a piece of shit shine. I know it sounds harsh and I shouldn't say it, but that is what it is. You're trying to make something average be better."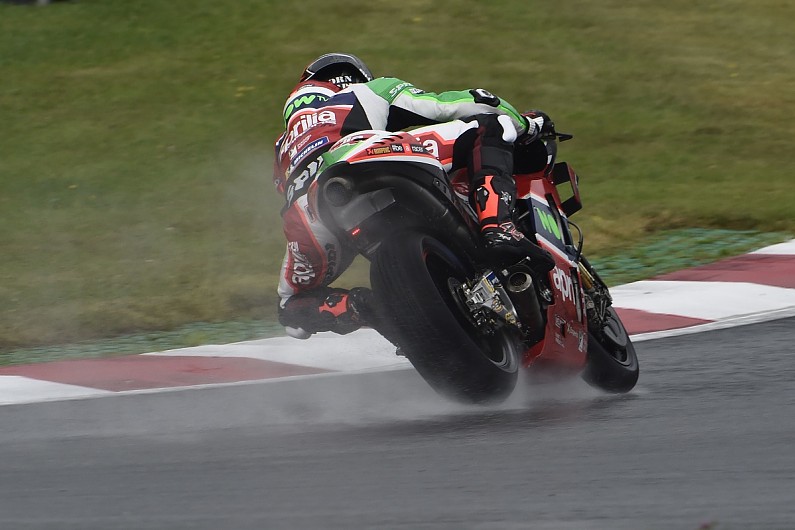 Asked if his problems were related the fact he will leave Aprilia after this season, Redding replied: "It's nothing to do with that.
"The guys are trying but it is just a bit of a joke.
"There are so many things that I'm not even allowed to say that in a team of this level should not be happening, and it is happening. And I accept it.
"Then we find out yesterday night there was a problem with the sensor, this, this and this, the suspension is reading different than what it is doing, fucking hell.
"This is a MotoGP factory team, why is this happening?
"I've got problem with the electronics all the weekend, cannot get it to work. So what hope do I have to make a result here? I can't, and that is the thing that's making it hard at the moment."
[ad_2]

Source link