[ad_1]

M-Sport Ford team principal Malcolm Wilson says Sebastien Ogier's response to his Rally Germany puncture sends a clear message that the World Rally Championship title fight is far from over.
Ogier lost second place when he suffered a puncture on the second run at the Panzerplatte stage.
Stopping and changing the tyre cost 1m40s and dropped Ogier from 13 seconds off Ott Tanak's lead in second to ninth position, and elevated championship leader Thierry Neuville – who is 21 points ahead of Ogier – to fourth.
"There's still almost a third of this championship remaining," Wilson told Autosport.
"This thing's not over, far from it. You could see from what Seb did in the latter part of that stage, he's not giving up on anything.
"His splits when he got back in the car and started driving again were just incredible, he was right back on the pace and taking time out of people.
"Some drivers can do that, get back in and get back on it – Seb can, he's one of the best at it. What we've seen after that puncture is the mark of a true champion."
Ogier went fastest on the stage after his puncture and is already back up to eighth place and within 3.5s of seventh-placed Andreas Mikkelsen.
Wilson admitted that sort of positivity from the five-time WRC champion would help lift the whole M-Sport team, which had also lost Elfyn Evans to a crash in the morning.
"Naturally there's a bit of disappointment around," Wilson added, "especially coming on the back of Elfyn's problem, everybody was maybe a bit down.
"But anything can happen and you just know that Seb's going to be giving it absolutely everything.
"It's a shame, we had the chance to bridge the gap, but it hasn't happened and we move on."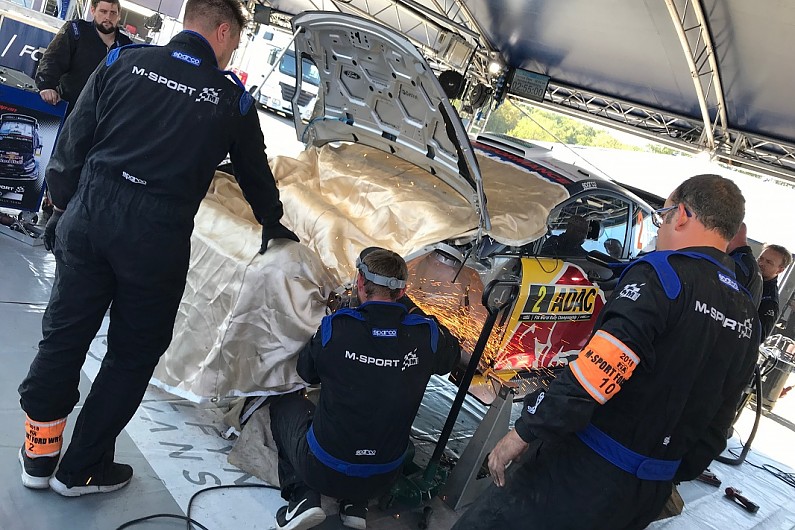 Evans had started the day fourth and though he slipped back to seventh he was still close to the podium fight when he went off on the Romerstrasse stage.
"It was in a fourth-gear right over where there was a lot of gravel pulled out from the guys in front," Evans told Autosport.
"I thought the speed was right for the corner, but on initial turn-in I got some understeer and we went off onto the grass.
"There was a concrete culvert embedded in the grass and that ripped the corner of the sumpguard and the suspension. It was a hard hit on the left-front corner."
The #2 Ford Fiesta WRC is back in service and being repaired for Sunday's final stages.
Having lost places on the Baumholder military roads, Evans felt his speed on the rally's more normal stages was good.
"I had a spin in that first country stage," he said. "It was a silly one in the first hairpin. But otherwise, it was good.
"Maybe that put us under a bit of pressure, but we were in a fight and a close fight for third place and when you're there you have to push."
[ad_2]

Source link