Get unlimited access
You have 10 articles remaining to view this month.
ASP Mercedes' Raffaele Marciello and Michael Meadows took a commanding victory in a rain-affected Blancpain GT Series Sprint Cup race at the Hungaroring.
The duo converted pole position into Mercedes' first sprint win of 2018 to draw level on points with the #1 Audi at the top of the drivers' championship with one sprint round remaining.
Marciello had built a sizeable lead at the start of the race, which began behind the safety car due to heavy rain.
But the Mercedes pair had to survive a late safety car period, deployed when the Pro-Am class-leading Ferrari spun into the gravel with just over 10 minutes of the race remaining.
Their advantage was wiped out as a consequence but Marciello's replacement Meadows was aided at the restart by an intense dogfight for second place behind him, which saw championship leader Alex Riberas fall from second place to fourth in the final two laps.
The #1 Audi of Riberas ran wide at Turn 5 while trying to pressure race leader Meadows, allowing the #25 Audi R8 LMS driven by Simon Gachet and Christopher Haase into second place.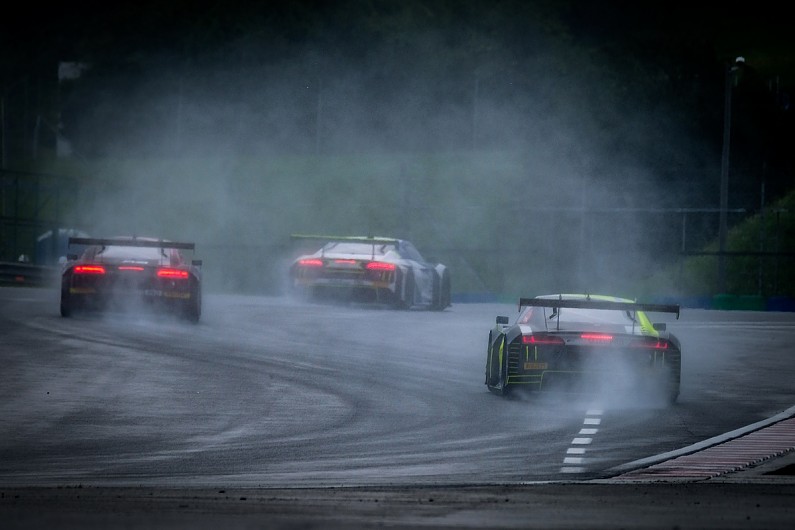 Zolder victor Steijn Schothorst further demoted Riberas on the final lap of the race to steal the final place on the podium.
The Grasser Racing Lamborghinis ended the race in fifth and sixth. Race one winners Christian Englehart and Mirko Bortolotti finished in sixth, just seven tenths adrift of their team-mates Loris Hezemans and Franck Perera.
After taking over from Will Stevens, Dries Vanthoor had hauled the #2 Audi from outside the top 10 to within reach of the podium but he spun at the penultimate corner on the final lap when scrapping with the other Audis.
He took the chequered flag in seventh, with Nicolas Jamin and Denis Bulatov taking eighth overall as well as Silver Cup honours.
Race result
| Pos | Driver | Team | Car | Gap |
| --- | --- | --- | --- | --- |
| 1 | M.Meadows, R.Marciello | Akka ASP Team | Mercedes | 1h01m53.964s |
| 2 | S.Gachet, C.Haase | Sainteloc Junior Team | Audi | 1.139s |
| 3 | S.Schothorst, K.van der Linde | Attempto Racing | Audi | 2.544s |
| 4 | A.Riberas, C.Mies | Belgian Audi Club Team WRT | Audi | 2.829s |
| 5 | L.Hezemans, F.Perera | GRT Grasser Racing Team | Lamborghini | 5.716s |
| 6 | C.Engelhart, M.Bortolotti | GRT Grasser Racing Team | Lamborghini | 6.453s |
| 7 | D.Vanthoor, W.Stevens | Belgian Audi Club Team WRT | Audi | 6.658s |
| 8 | N.Jamin, D.Bulatov | Akka ASP Team | Mercedes | 8.584s |
| 9 | N.Bastian, J.Manchester | Akka ASP Team | Mercedes | 12.578s |
| 10 | A.De Leener, R.Feller | Belgian Audi Club Team WRT | Audi | 15.067s |
| 11 | E.P.Companc, A.Caldarelli | GRT Grasser Racing Team | Lamborghini | 16.071s |
| 12 | H.Haupt, L.Stolz | Black Falcon | Mercedes | 17.287s |
| 13 | C.Klien, A.Costa | Emil Frey Racing | Lexus | 18.554s |
| 14 | N.Siedler, M.Palttala | Emil Frey Racing | Lexus | 20.214s |
| 15 | A.Watson, L.Moraes | 3Y Technology | BMW | 20.469s |
| 16 | S.Leonard, R.Frijns | Belgian Audi Club Team WRT | Audi | 33.538s |
| 17 | P.Schothorst, P.Kaffer | Attempto Racing | Audi | 42.609s |
| 18 | V.Atoev, A.Korneev | Akka ASP Team | Mercedes | 54.982s |
| 19 | N.Stievenart, M.Winkelhock | Sainteloc Junior Team | Audi | 1m46.047s |
| 20 | J.Malcharek, C.Malcharek | Audi Sport Slovakia | Audi | 1 Lap |
| 21 | P.B.-Bhakdi, C.van Dam | Kessel Racing | Ferrari | 2 Laps |
| – | K.Habul, T.Vautier | Akka ASP Team | Mercedes | Withdrawn |