Get unlimited access
You have 10 articles remaining to view this month.
IndyCar believes a prospective third manufacturer would have to commit to the series by May 2019 in order to meet the implementation date for the next generation of engines.
During the Indianapolis 500 month this year, IndyCar revealed the specification of its new engines – including a boost in power up to 900bhp.
The 2.4-litre turbocharged V6 engines will be used for the first time in 2021, with current manufacturers Honda and Chevrolet set to begin testing in July '20.
As the tests are sanctioned by IndyCar, a new manufacturer would not be allowed to test before the two existing firms.
IndyCar's president of competition and operations Jay Frye has regularly spoken of a five-year plan for progressing the series, with a third manufacturer a key target.
Asked when any new manufacturer would have to commit to joining the series, in order to have its product testing on track by July 2020, Frye replied: "Probably by May next year, so the first quarter of 2019, I'd say.
"Obviously one of the requirements of the 2.4-litre engines is that it can bolt directly into the current car.
"We'll be running the current car with the new engines in testing in 2020, and then through the '21 season, before we switch to a new chassis in '22.
"We're working hard on a third manufacturer. In fact, we have two meetings coming up in the next couple of weeks, and I'm pleased that there's a lot of enthusiasm out there.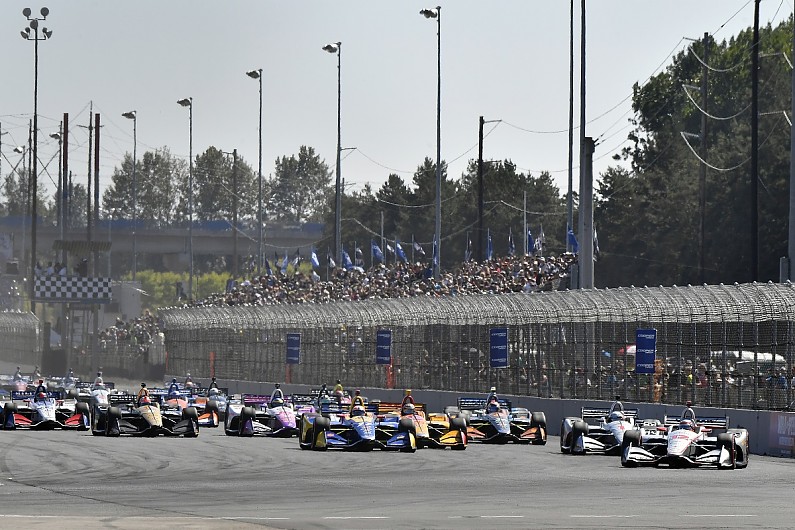 "But obviously, a racing programme is a big commitment so we have to be patient and just present the facts and figures as they stand and the OEMs who are interested will have seen the evidence.
"They've seen for two or three years what we're doing, the stable rules, the five-year and 10-year plans.
"They know the next engine will be used through 2026. And they've been able to see all year how this car races, how competitive the series is."
Frye had previously told Autosport that he had held talks with many manufacturers around the globe, with Cosworth one of the few to publicly admit its interest as it already supplies electronics to the series.
The Fiat-Chrysler company had also been tenuously linked to a potential engine supply, prior to Sergio Marchionne's passing earlier this year.