Get unlimited access
You have 10 articles remaining to view this month.
Reigning IndyCar champion Josef Newgarden bounced back to top second practice for the season finale at Sonoma despite suffering from food poisoning.
Newgarden's best time of 1m17.8156 seconds was the fastest time of the session in his only practice of the day, having missed the earlier running.
His lap was 0.0836s faster than championship leader and Chip Ganassi Racing driver Scott Dixon in second place.
Dixon had also been second fastest in the first practice that was topped by Andretti's Ryan Hunter-Reay, trailing by a sizeable margin of 0.2526s, as Hunter-Reay set the fastest lap of the day in 1m17.5472s.
The four-time champion's main title threat Alexander Rossi was only sixth fastest in the afternoon after eighth in the morning after a spin.
Title outside and Penske man Will Power was third and fourth in the day's running.
Both Power and his team-mate Newgarden must win the finale, lead the most laps and Dixon to finish below 22nd and Rossi outside the top nine to secure an unlikely title.
IndyCar debutant Patricio O'Ward was a surprise third in the afternoon session, having tested at Sonoma with his Harding Racing team prior to the weekend.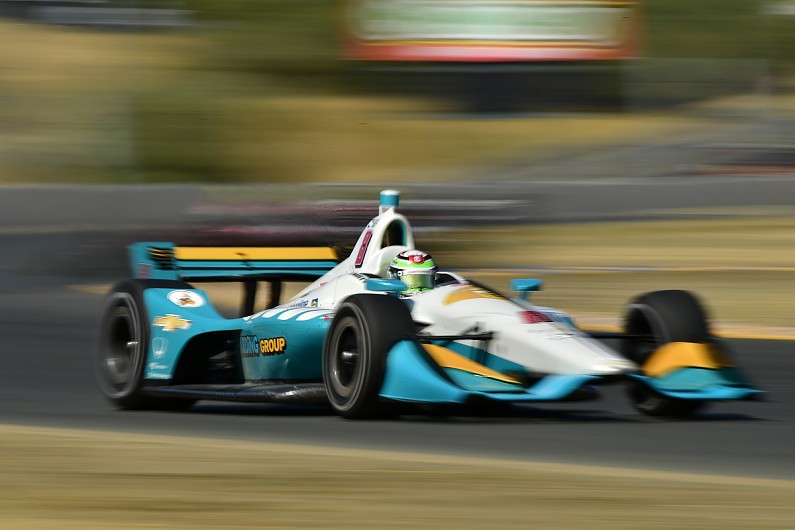 The Indy Lights champion's title rival Colton Herta was 16th and 21st in the two sessions.
Penske's Simon Pagenaud slumped from fourth to 17th from the first practice to the second as his difficult season continues.
Dale Coyne Racing with Vasser-Sullivan's Sebastien Bourdais was outpaced by DCR rookies Pietro Fittipaldi (ninth) and Santino Ferrucci (eighth) in the afternoon and finished the day 18th in second practice.
Schmidt Peterson Motorsports driver James Hinchcliffe spun twice in practice on Friday, but beat Robert Wickens's stand-in Carlos Munoz in both sessions, and was an impressive fifth in the afternoon.
Tony Kanaan will make his 300th Indycar race start on Sunday but looks set to start at the rear of the field as AJ Foyt Racing's rebuilding year continues to be difficult.
Free practice one result
| Pos | Driver | Team | Car | Gap |
| --- | --- | --- | --- | --- |
| 1 | Ryan Hunter-Reay | Andretti Autosport | Dallara/Honda | 1m17.5742s |
| 2 | Scott Dixon | Chip Ganassi Racing | Dallara/Honda | 0.2526s |
| 3 | Will Power | Team Penske | Dallara/Chevrolet | 0.3076s |
| 4 | Simon Pagenaud | Team Penske | Dallara/Chevrolet | 0.3844s |
| 5 | Marco Andretti | Andretti Herta | Dallara/Honda | 0.5136s |
| 6 | Ed Jones | Chip Ganassi Racing | Dallara/Honda | 0.5643s |
| 7 | Graham Rahal | Rahal Letterman Lanigan | Dallara/Honda | 0.5923s |
| 8 | Alexander Rossi | Andretti Autosport | Dallara/Honda | 0.6996s |
| 9 | Zach Veach | Andretti Autosport | Dallara/Honda | 0.7799s |
| 10 | Sebastien Bourdais | Dale Coyne Racing | Dallara/Honda | 0.7967s |
| 11 | Pietro Fittipaldi | Dale Coyne Racing | Dallara/Honda | 0.8700s |
| 12 | Santino Ferrucci | Dale Coyne Racing | Dallara/Honda | 1.0252s |
| 13 | Spencer Pigot | Ed Carpenter Racing | Dallara/Chevrolet | 1.1548s |
| 14 | Takuma Sato | Rahal Letterman Lanigan | Dallara/Honda | 1.1714s |
| 15 | James Hinchcliffe | Schmidt Peterson Motorsports | Dallara/Honda | 1.2015s |
| 16 | Colton Herta | Harding Racing | Dallara/Chevrolet | 1.2519s |
| 17 | Jack Harvey | Meyer Shank Racing | Dallara/Honda | 1.3568s |
| 18 | Charlie Kimball | Carlin | Dallara/Chevrolet | 1.3896s |
| 19 | Tony Kanaan | AJ Foyt Enterprises | Dallara/Chevrolet | 1.4870s |
| 20 | Matheus Leist | AJ Foyt Enterprises | Dallara/Chevrolet | 1.5175s |
| 21 | Carlos Munoz | Schmidt Peterson Motorsports | Dallara/Honda | 1.5183s |
| 22 | Jordan King | Ed Carpenter Racing | Dallara/Chevrolet | 1.5890s |
| 23 | Max Chilton | Carlin | Dallara/Chevrolet | 1.5997s |
| 24 | Patricio O'Ward | Harding Racing | Dallara/Chevrolet | 1.6156s |
Free practice two result
| Pos | Driver | Team | Car | Gap |
| --- | --- | --- | --- | --- |
| 1 | Josef Newgarden | Team Penske | Dallara/Chevrolet | 1m17.8156s |
| 2 | Scott Dixon | Chip Ganassi Racing | Dallara/Honda | 0.0836s |
| 3 | Patricio O'Ward | Harding Racing | Dallara/Chevrolet | 0.1917s |
| 4 | Will Power | Team Penske | Dallara/Chevrolet | 0.2128s |
| 5 | James Hinchcliffe | Schmidt Peterson Motorsports | Dallara/Honda | 0.4200s |
| 6 | Alexander Rossi | Andretti Autosport | Dallara/Honda | 0.5728s |
| 7 | Ed Jones | Chip Ganassi Racing | Dallara/Honda | 0.6768s |
| 8 | Santino Ferrucci | Dale Coyne Racing | Dallara/Honda | 0.7805s |
| 9 | Pietro Fittipaldi | Dale Coyne Racing | Dallara/Honda | 0.7860s |
| 10 | Ryan Hunter-Reay | Andretti Autosport | Dallara/Honda | 0.7908s |
| 11 | Zach Veach | Andretti Autosport | Dallara/Honda | 0.7937s |
| 12 | Jordan King | Ed Carpenter Racing | Dallara/Chevrolet | 0.8194s |
| 13 | Takuma Sato | Rahal Letterman Lanigan | Dallara/Honda | 0.8634s |
| 14 | Graham Rahal | Rahal Letterman Lanigan | Dallara/Honda | 0.9070s |
| 15 | Carlos Munoz | Schmidt Peterson Motorsports | Dallara/Honda | 0.9656s |
| 16 | Marco Andretti | Andretti Herta | Dallara/Honda | 0.9907s |
| 17 | Simon Pagenaud | Team Penske | Dallara/Chevrolet | 0.9919s |
| 18 | Sebastien Bourdais | Dale Coyne Racing | Dallara/Honda | 1.0907s |
| 19 | Spencer Pigot | Ed Carpenter Racing | Dallara/Chevrolet | 1.1104s |
| 20 | Jack Harvey | Meyer Shank Racing | Dallara/Honda | 1.1333s |
| 21 | Colton Herta | Harding Racing | Dallara/Chevrolet | 1.1930s |
| 22 | Charlie Kimball | Carlin | Dallara/Chevrolet | 1.2342s |
| 23 | Tony Kanaan | AJ Foyt Enterprises | Dallara/Chevrolet | 1.4310s |
| 24 | Max Chilton | Carlin | Dallara/Chevrolet | 1.5122s |
| 25 | Matheus Leist | AJ Foyt Enterprises | Dallara/Chevrolet | 1.5423s |