Get unlimited access
You have 10 articles remaining to view this month.
Jenson Button admits his switch from Formula 1 to the Japanese Super GT series has been tougher than he expected, following his maiden win in the championship last weekend.
The 2009 F1 world champion claimed victory and the points lead alongside team-mate Naoki Yamamoto at Sugo, giving Button his first race win since the 2012 Brazilian Grand Prix.
Asked what his expectations were for his rookie season, Button said it had taken longer to get up to speed than he anticipated.
"When you come from Formula 1, you expect – stupidly – everything else to be easier, but it's tough," he said.
"It took time, and it was tougher than I expected. But to be six races in and to have two second places and a first, we should be very happy.
"There was probably a little bit of pressure on everyone because we wanted [a win] so badly, and a few times we've been close.
"Obviously for Naoki it hasn't been so long since he won his last race, but for me it's been six years so it's been a long time coming.
"It's just the way Super GT is, it's very competitive and no race is easy. It's always tough.
"Winning in any category is great but when it's a competitive category like this it really means a lot."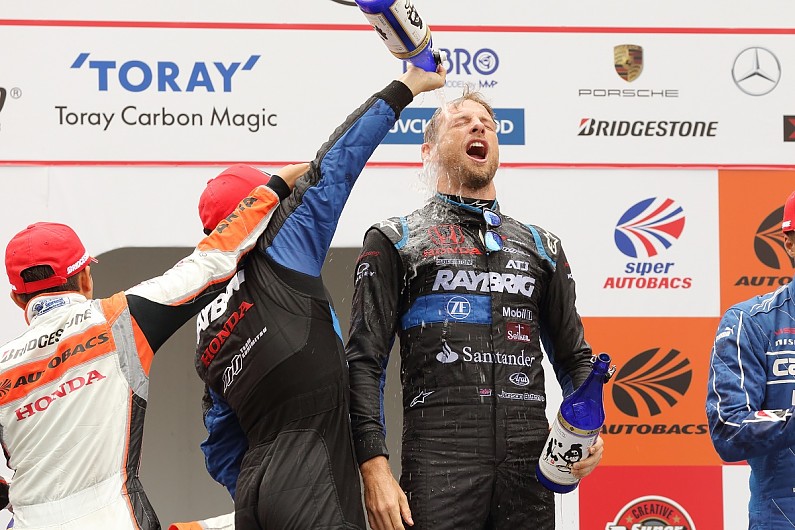 Button dismissed suggestions that leading the standings with two races to go would increase the pressure on him.
"I don't think about pressure, definitely not," he said. "The important thing for us is that we got this victory.
"We definitely aren't relaxed now, but we go to the last races hoping we can still get a good result.
"The important thing is to get points on the board, who knows what will happen in the next race?
"Now we have 61, which is huge and we go to the next race excited for a good result.
"We finally got that victory, so we search for the next one."