Get unlimited access
You have 10 articles remaining to view this month.
NASCAR Cup Series title contender Kevin Harvick has renewed his call for a major shake-up of the championship's calendar, prompted by Charlotte's 'roval' switch.
The replacement of Charlotte's second oval date with a round on its infield road course – the first time a non-oval had appeared in the playoffs – was the headline element of several Cup calendar tweaks for 2018.
But the 2019 schedule is near-identical to this year's, and Harvick said the interest that the Charlotte switch prompted should have triggered more creativity.
"What's the most talked about race this season? That we have or haven't run?" he asked.
"The 'roval' probably, right? Hopefully something that everybody sees is you need more unique events."
NASCAR is currently in the middle of five-year scheduling agreements with tracks in all three of its national series, done in the hope continuity would enable venues to promote and plan more effectively.
But those agreements lock NASCAR into similar schedules for five consecutive years with little opportunity to make significant changes. Harvick thinks this is unnecessary.
"There are very few events that have enough equity in them to say this is the exact date that it has to be," he argued.
"Darlington is one of those events that has that date equity, but why shouldn't Darlington have a playoff race every once in a while? Why shouldn't Bristol have a playoff race every once in a while?
"Why is the championship[-deciding] race at Homestead every year?
"Is that best for us? I don't think so.
"I think it would be better to rotate around."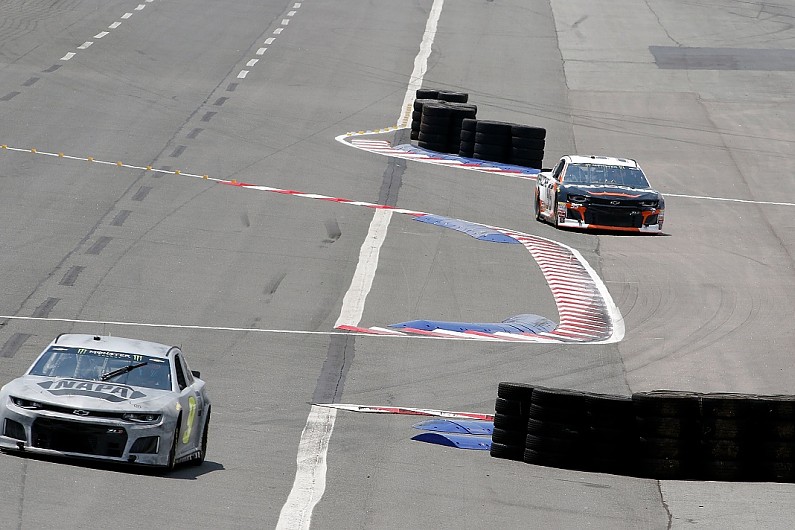 The new infield layout at Charlotte will host the final leg of the first part of the playoffs at the end of September, with four of the current 16 title contenders being knocked out of the championship running there.
Harvick said that pivotal race taking place at a totally unfamiliar venue was an exciting prospect that should be repeated.
"What makes the roval great is it's different," he argued.
"It's got us all back on our heels because we don't even have the answers to the quiz because we don't know the questions.
"We don't even know what questions to put down that we need to ask to get the answers to.
"I've never passed a car at the roval. I literally don't even know where to start.
"You think you might [know what to do] but [then] nobody's running side by side through Turns 1, 2 and 3 on a restart, you know what I mean? I'm not 100% sure on how exactly I get off pit road.
"Those are good things that, as a competitor, you may not or may not necessarily like, it may not be the track that we would have designed on a piece of paper and done it this way.
"But the buzz in Charlotte… you never heard anybody talk about the [autumn] race there, but now there's just a buzz about this roval race because it's different."