Get unlimited access
You have 10 articles remaining to view this month.
In association with
The incident between Jorge Lorenzo and Marc Marquez at the Aragon Grand Prix foreshadows the kind of tense atmosphere that could exist at the Honda MotoGP team in 2019.
Lorenzo's anger with Marquez after he suffered a high-side on Sunday at the Motorland circuit has created a lot of noise, but it was more than obvious that, sooner or later, the conflict between these two world champions would explode.
If Honda's thinking was that these two top dogs would share the same garage without any tension or fire, this weekend was proof that its powers that be don't know these Lorenzo and Marquez at all.
But Honda and its director Alberto Puig's mission is to create the best team possible – even if that means many headaches when it comes time to handle specific situations.
Luckily for Honda, Lorenzo is still a Ducati rider; so it doesn't fall to Honda to try to decrease the anger Lorenzo had after Sunday's incident.
Throughout Lorenzo's press conference after the race, he threatened Race Direction (and indirectly the rest of his rivals) that if no one takes action to avoid that kind of incident, he will have to act the same. Marquez's move earned no infraction – so we can only guess at what Lorenzo will plan.
The way Marquez entered the first corner was aggressive; but not against the rules. In fact, between his Honda and the Ducati there was never any contact; the footage reveals the margin between them is more than half a metre.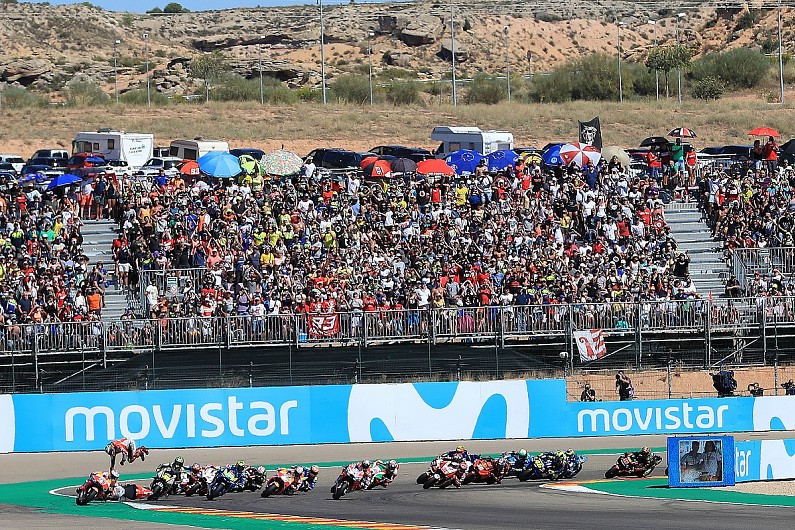 Another thing to consider is whether the reigning champion's pass – one that pushes his rival to the dirty part of the track – is deemed appropriate racing, or if it belongs to the kind of 'gentlemen's agreement' Ducati referenced.
In any case, Lorenzo is aware that if he wants to compete with Marquez next year on the same bike, he will have to get into the manner of racing with which his future team-mate feels completely comfortable.
"The rest of the riders already know that he will make them rise to that level; so if they want to win, they will have to get that far," Marquez's track engineer Santi Hernandez told Autosport.
"When you get into that field, everyone knows there is also the risk of losing."
After what we saw at Aragon, it remains to be seen whether Lorenzo will raise his game to Marquez's strong (but totally legal) level of determination.
Either way, we advise grabbing some popcorn and settling in to enjoy the show the 2019 MotoGP season is bound to offer.