Ryan Blaney snatched victory in the Charlotte 'roval' NASCAR Cup Series race after leaders Martin Truex Jr and Jimmie Johnson collided at the final corner.
Blaney had been running third while Truex and Johnson battled for position in a three-lap dash to the finish line after a late red flag.
Truex held the lead and looked set for the victory when Johnson locked up and spun at the final corner as he made a last-gasp bid for the lead.
Johnson's Hendrick Chevrolet went backwards across the chicane and clipped the back of Truex's Furniture Row Toyota, sending the champion into a spin and allowing Blaney to come through to claim his second Cup victory and first in a championship round with Penske.
The incident cost Johnson his position in the playoffs. Though tied on points with Kyle Larson and Aric Almirola, he falls back to 13th when best race finish is taken into account as a tie breaker.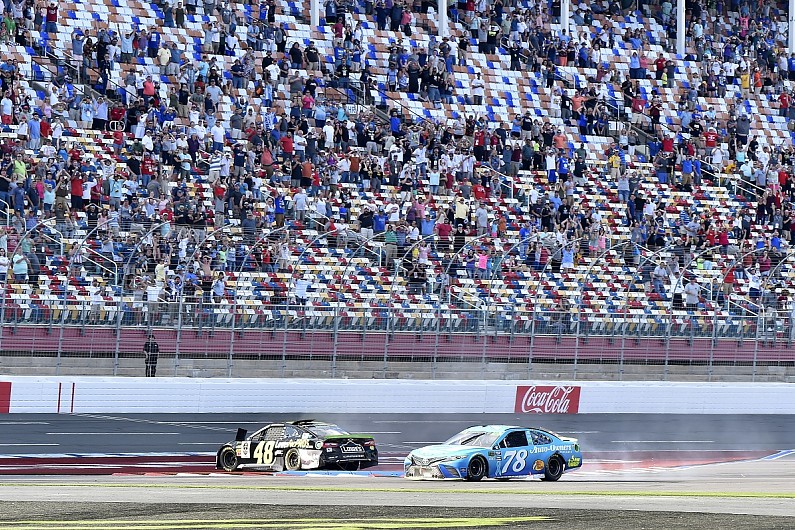 The late race chaos started when Ricky Steinhouse Jr hit the wall at the first corner with just eight laps remaining, bringing out another caution.
Brad Keselowski, in the race lead, opted not to pit, and led Larson and Truex into what would be the penultimate restart.
Keselowsi – who had until that point enjoyed a tough battle with Larson – locked up and ran into the wall at the first corner on the restart, and was followed by a number of other drivers, including Larson and Kyle Busch.
With dozens of cars stranded on track, the decision was made to red flag the race to clear the incident.
The final restart played into the hands of a number of drivers on the bubble of the cut off, including Clint Bowyer and Alex Bowman, who finished third and fourth behind Jamie McMurray.
Kurt Busch enjoyed a strong start to the race, battling with Larson for the stage one win, but fell backwards in the midpart of the race, eventually coming home in fifth.
Chase Elliot took sixth ahead of AJ Allmendinger, who endured a chaotic race.
The outgoing JTG Daugherty Chevrolet driver had been running in the back end of the top 10 after a caution period brought out when Austin Dillon slammed into the wall to avoid a slow moving Chris Buescher.
As the field bunched up for the restart, Allmendinger collided with Denny Hamlin, causing his bodywork to rub against his tyres and dropping him down the order before he regained ground in the late chaos.
Johnson got going again to take the chequered flag in eighth, ahead of Kevin Harvick and Joey Logano.
Dillon, Hamlin and Erik Jones joined Johnson in being eliminated from title contention after the race.
Larson looked in jeopardy following the restart crash, but limped to the finish in 25th to secure his place in the next round of the championship fight.

Race result


| Pos | Driver | Team | Car | Laps |
| --- | --- | --- | --- | --- |
| 1 | Ryan Blaney | Team Penske | Ford | 109 |
| 2 | Jamie McMurray | Chip Ganassi Racing | Chevrolet | 109 |
| 3 | Clint Bowyer | Stewart-Haas Racing | Ford | 109 |
| 4 | Alex Bowman | Hendrick Motorsports | Chevrolet | 109 |
| 5 | Kurt Busch | Stewart-Haas Racing | Ford | 109 |
| 6 | Chase Elliott | Hendrick Motorsports | Chevrolet | 109 |
| 7 | A.J. Allmendinger | JTG Daugherty Racing | Chevrolet | 109 |
| 8 | Jimmie Johnson | Hendrick Motorsports | Chevrolet | 109 |
| 9 | Kevin Harvick | Stewart-Haas Racing | Ford | 109 |
| 10 | Joey Logano | Team Penske | Ford | 109 |
| 11 | Ryan Newman | Richard Childress Racing | Chevrolet | 109 |
| 12 | Denny Hamlin | Joe Gibbs Racing | Toyota | 109 |
| 13 | Matt DiBenedetto | Go FAS Racing | Ford | 109 |
| 14 | Martin Truex Jr. | Furniture Row Racing | Toyota | 109 |
| 15 | Regan Smith | Leavine Family Racing | Chevrolet | 109 |
| 16 | David Ragan | Front Row Motorsports | Ford | 109 |
| 17 | Chris Buescher | JTG Daugherty Racing | Chevrolet | 109 |
| 18 | Michael McDowell | Front Row Motorsports | Ford | 109 |
| 19 | Aric Almirola | Stewart-Haas Racing | Ford | 109 |
| 20 | Cole Whitt | TriStar Motorsports | Chevrolet | 109 |
| 21 | Daniel Suarez | Joe Gibbs Racing | Toyota | 109 |
| 22 | Ty Dillon | Germain Racing | Chevrolet | 109 |
| 23 | Daniel Hemric | Richard Childress Racing | Chevrolet | 109 |
| 24 | Ross Chastain | Premium Motorsports | Chevrolet | 109 |
| 25 | Kyle Larson | Chip Ganassi Racing | Chevrolet | 109 |
| 26 | Jeffrey Earnhardt | Gaunt Brothers Racing | Toyota | 109 |
| 27 | Justin Marks | Premium Motorsports | Chevrolet | 108 |
| 28 | J.J. Yeley | BK Racing | Toyota | 108 |
| 29 | Landon Cassill | StarCom Racing | Chevrolet | 108 |
| 30 | Erik Jones | Joe Gibbs Racing | Toyota | 108 |
| 31 | Brad Keselowski | Team Penske | Ford | 103 |
| 32 | Kyle Busch | Joe Gibbs Racing | Toyota | 103 |
| 33 | Paul Menard | Wood Brothers Racing | Ford | 103 |
| 34 | William Byron | Hendrick Motorsports | Chevrolet | 103 |
| 35 | Trevor Bayne | Roush Fenway Racing | Ford | 103 |
| 36 | Darrell Wallace Jr. | Richard Petty Motorsports | Chevrolet | 103 |
| 37 | Ricky Stenhouse Jr. | Roush Fenway Racing | Ford | 100 |
| 38 | Timmy Hill | MBM Motorsports | Toyota | 70 |
| 39 | Austin Dillon | Richard Childress Racing | Chevrolet | 64 |
| 40 | Stanton Barrett | Rick Ware Racing | Ford | 11 |
Playoff standings
| Pos | Driver | Points |
| --- | --- | --- |
| 1 | Kyle Busch | 3055 |
| 2 | Kevin Harvick | 3050 |
| 3 | Martin Truex Jr. | 3038 |
| 4 | Brad Keselowski | 3025 |
| 5 | Clint Bowyer | 3015 |
| 6 | Joey Logano | 3014 |
| 7 | Kurt Busch | 3014 |
| 8 | Ryan Blaney | 3013 |
| 9 | Chase Elliott | 3008 |
| 10 | Kyle Larson | 3006 |
| 11 | Aric Almirola | 3001 |
| 12 | Alex Bowman | 3000 |