Get unlimited access
You have 10 articles remaining to view this month.
Renault insists it should not be singled out for blame over why Esteban Ocon has been left struggling to find a Formula 1 seat.
Ocon is facing a year on the sidelines after a planned switch to Renault fell through at the last minute when the manufacturer opted to take Daniel Ricciardo instead.
It has since emerged that Mercedes, which manages Ocon's career, let other options fall away because it had a handshake agreement with Renault that a deal would be done.

How a handshake sealed Ocon's fate
Renault F1 managing director Cyril Abiteboul believes it is unfair that Renault be singled out for leaving Ocon high and dry.
"Esteban is currently in the middle of a situation of a very adverse set of circumstances, and I think Renault is only a small factor in all of that," said Abiteboul in an exclusive interview with Autosport.
"We are a factor, but I think we are only a small factor. And I think we should not exaggerate the fact that, again, that we are just a small factor.
"We should not forget the Mercedes decision on its driver line-up. We should not forget the Force India situation and the role that Mercedes has clearly played in the Force India situation."
Mercedes boss Toto Wolff revealed last week that Renault had urged Mercedes not to pursue an opportunity Ocon had with McLaren so it could finalise its own deal.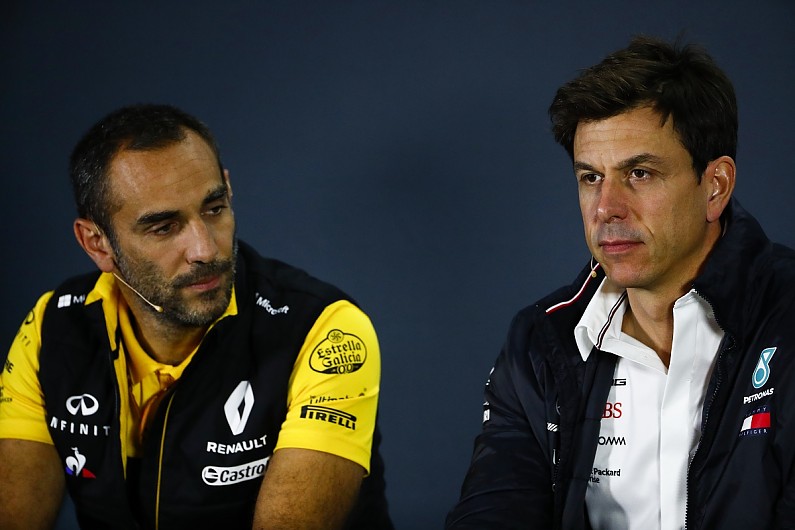 It was that action, allied to the handshake, that left Wolff disappointed with how things had turned out.
"A ready contract and a handshake commitment was given to ensure that he [Ocon] would not go to the other team, and based on that handshake commitment the decision was taken," said Wolff.
"But eventually the 'agreement' that was made didn't happen.
"If among serious teams and corporations you agree on things, you like to trust that these things will stick."
Asked about the handshake with Mercedes, Abiteboul said: "I don't want to add a story to a story because then it keeps on going and going.
"I can see that Toto, maybe for the first time in Formula 1, is struggling with something, with the situation.
"I have never denied the fact that we have had lots of interest for Esteban and that we will continue in the future to have lots of interest for Esteban.
"What I can say is that no contract was obviously signed. Otherwise it would have been challenged by Toto.
"But for the rest let's, again, not exaggerate Renault's responsibility in the Esteban situation."