Get unlimited access
You have 10 articles remaining to view this month.
Ducati rider Jorge Lorenzo says he is leaning towards sitting out the Thailand MotoGP race after a "scary" crash in Friday practice.
Lorenzo high-sided off his Ducati Desmosedici GP18 in the second practice session, and was taken to hospital afterwards.
The Spaniard, who suffered heavy bruising and contusions to his left wrist and right ankle, was already nursing an injury heading into the Buriram round after hurting his right foot in a similarly violent crash at Aragon.
Asked whether he would be back on the bike on Saturday, Lorenzo said: "If you ask me now, I would say no.
"Because the last fracture, the last injury [from Aragon], is a little bit worse, it is not more broken but is more painful.
"But apart from this I have a big contusion on my left wrist and also the right ankle, big contusion, I cannot put the foot on the ground.
"So if you ask me now, I will say no. But I don't want to say something too quickly, so I will wait tonight, to see how I feel tomorrow morning."
The three-time MotoGP champion said he felt "very lucky" not to suffer a more serious injury in the fall.
"[It] was scary, I was scared. I was scared about my foot, because it really hurts.
"I impacted [the ground] with the back and also with the feet. And I was rolling a lot.
"So, right foot was painful, later little-by-little I understood that it didn't get worse than before.
"So I am lucky about that."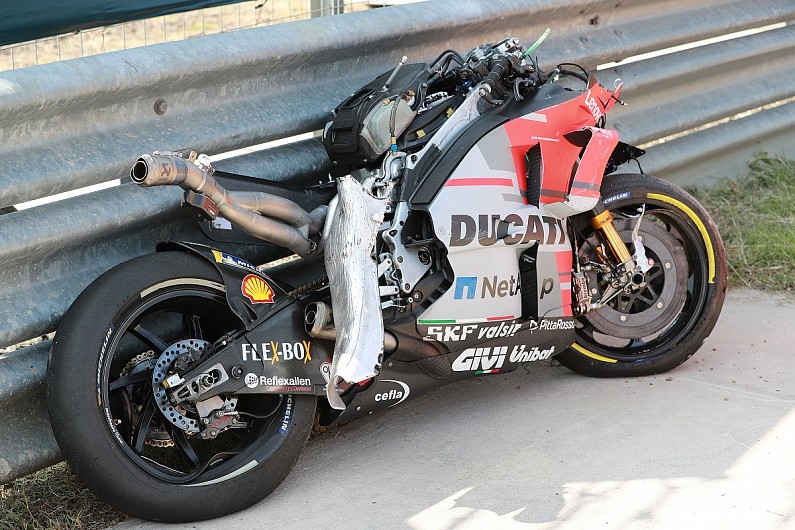 Lorenzo said the crash was down to a "mechanical problem" and team manager Davide Tardozzi confirmed it was "not Jorge's fault".
Tardozzi refused to elaborate on the exact cause, saying that the analysis was still ongoing but insisting Ducati was "absolutely" not worried about a repeat.
Lorenzo had already suffered a mechanical failure-induced crash earlier this season, dropping out of the Qatar race with a brake problem.
When asked whether the Buriram issue was particularly frustrating given he was already riding injured, he said: "I could be more lucky, for sure.
"But also I could be more unlucky. So we're going to try to be positive.
"Maybe it's a small possibility that tomorrow I can try to ride again.
"If not, I will try in Japan.
"In Japan I think I will be much better than I was yesterday coming here."