Get unlimited access
You have 10 articles remaining to view this month.
Suzuki MotoGP rider Andrea Iannone reckons Marc Marquez and Andrea Dovizioso can beat the rest of the field by half a lap in the Thailand Grand Prix as they have a big advantage in race pace.
Honda rider Marquez and Ducati's Dovizioso have dominated the second half of the 2018 season, fighting for the victory alongside Jorge Lorenzo in every race since Brno in August.
The duo are again two of the favourites to win the Thailand Grand Prix, with championship leader Marquez taking pole position in qualifying and Dovizioso starting third after topping three practice sessions.
Iannone, who qualified three tenths behind Marquez in sixth, commented afterwards that he expects the duo to continue their form in the race and could beat the rest of the field by half a lap.
"If they want, Dovizioso and Marquez can leave us half a lap behind because they have three or four tenths more than the rest," he said.
However, Dovizioso reckons a big group will form early in the race, with the Yamahas of Valentino Rossi and Maverick Vinales both inside the top four and showing a significant upturn in form after a difficult run of races.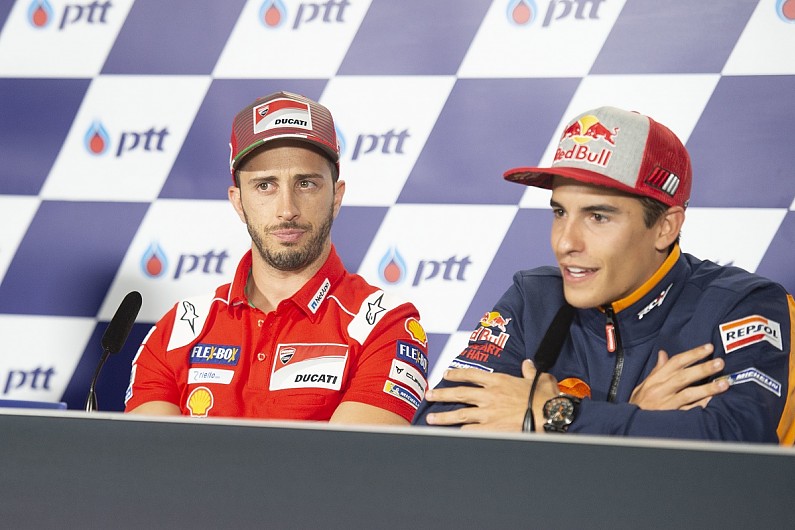 "Is very difficult to know because a lot of riders have really good pace, a lot of riders were able to make [1m]31[s] low," said Dovizioso, who will be the lone Ducati rider in the race after the withdrawal of Jorge Lorenzo.
"But you know, like always, make laptime is one thing, make that laptime in an intelligent way is a different story.
"So it's difficult to know from the TV and the paper the details about that. But I can expect a lot of fast riders for the first half part of the race, for sure.
"I think the two Yamahas, two Suzuki for sure will be there, [Cal] Crutchlow I think has a really good pace. I expect a big group."
Pole-sitter Marquez, who crashed in FP3, feels Dovizioso has an edge in race pace heading into Sunday.
"On paper now, Dovizioso looks very strong, looks like he's the fastest one," Marquez said.
"We are very very close, and then both Yamaha are also very fast in FP4, they were able to ride in 31 middle-low consistently, so will be tough.
"The last 10 laps in the race will be crucial because the tyre drop a little bit."