Get unlimited access
You have 10 articles remaining to view this month.
Andrea Dovizioso said his last-lap defeat by Marc Marquez in MotoGP's Thailand Grand Prix happened because he had not been able to judge his rival's weak points.
MotoGP's first-ever race at Buriram was the fourth time in the last 14 months that Dovizioso and Marquez had been in a final-corner battle for victory.
On all three previous occasions, Dovizioso had come out on top.
But this time Marquez made a crucial overtaking move on Dovizioso at the track's fifth turn and the Ducati rider's immediate retaliation failed.
Dovizioso's only other option was to try a 'block pass' at the final corner, which Marquez saw off to win by a tenth of a second.
Dovizioso explained that his attempts to reclaim the lead right away ultimately compromised the rest of his lap.
"Unfortunately I didn't make a perfect strategy because I didn't know the positive and negative points of Marc, because I was always in front of him," said Dovizioso.
"And when he overtook me in Turn 5, I tried to answer immediately, because I thought I didn't have any chance to answer until the last corner, that's why I tried that.
"But didn't work because I lost time in Turn 6, and I realised in Turn 10 he was in trouble with the tyres. I didn't know [beforehand].
"I was able to recover some metres, but not enough to be very close to stop him in the last braking zone.
"If I didn't try in Turn 5, I could have tried in a different way in the last corner.
"With Marc you never know how he'll handle it, but I was too far [behind] to make a really good brake and stop him.
"I was hoping Marc would go long with me but he was able to stop the bike a bit better than me."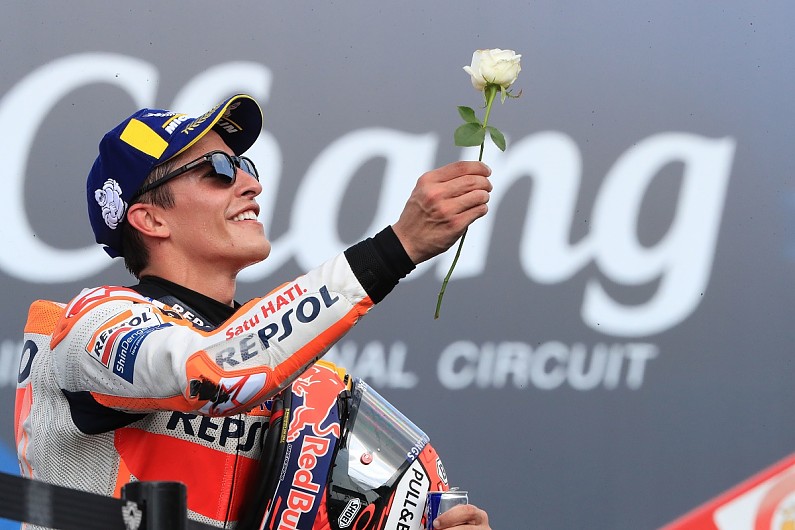 Marquez said his strategy was the same as in the Red Bull Ring battle against Jorge Lorenzo, as he sought to be in the lead for the final sector of the track.
"I tried to manage in the same way as Austria with Jorge, to arrive in front in the last sector and that was the main target for me," he explained.
"In Austria I wasn't able to because I was losing too much in Turn 3 but here I just prepared all the race for the overtake in Turn 5, and then I was able to do it.
"When three laps remained, I tried already there to see what is going on but I was not able to stop the bike, it was hopping a lot in the rear and started to chatter and I wasn't able to stop the bike in a good way.
"Then I said 'OK if Dovi arrives in front, he will win'. But then I tried just to play my cards in another way and it worked well but was very close.
"Both of us deserved the victory because he did a really good race."