Get unlimited access
You have 10 articles remaining to view this month.
In association with
It appears that previous events mean Valentino Rossi and Maverick Vinales don't trust the M1 improvements shown at Buriram, as the Yamaha bike is exactly the same as before.
Leaving aside Jorge Lorenzo's crash and his inability to race at the first ever MotoGP Thailand Grand Prix, the top story from this weekend was the miracle of Yamaha's renaissance.
Under normal circumstances, that comeback would have been a positive sign for a brand facing one of the deepest crises in its history; but statistics show Yamaha has gone 24 races without a premier class victory, and when you talk to the riders and engineers, it's clear that confusion reigns.
There is a phrase in motorcycle racing which says that the worst thing that could ever happen to a rider is to be fast without knowing why. The case of the Japanese team is even more dramatic: the engineers don't know exactly what is going on with the M1. They don't know how to fix the lack of traction Rossi and Vinales have been complaining about for the last year and a half. But worse than that – no one understands how Rossi was able to get close to pole position, as if by magic – or how Vinales finished third, less than three tenths behind race winner Marc Marquez.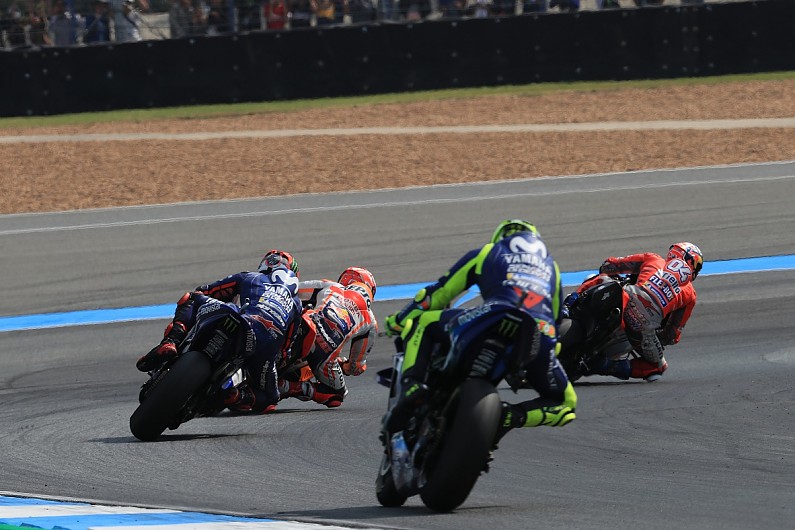 According to the riders, the prototype is practically the same bike they rode during recent rounds of the calendar, and when you ask them about this sudden change in performance, they just shrug.
"What doesn't make any sense is that the bike has improved without us changing anything," a voice of authority within Yamaha's garage explained to Autosport.
In this context, the only thing different about the set-up this weekend in comparison to the previous race was the rear tyre carcass Michelin decided to introduce, which was stiffer (the same the team got to use at the Red Bull Ring).
"What is clear is that the rear tyre has had an impact this weekend. What this specification gives us is more rear grip, and we've struggled less in that sense. In the next races we will understand if that improvement has something to do with the kind of track. I think it's something related to the asphalt grip," said Rossi after the race, having flirted with a podium finish.
"That was the best Yamaha race in the second part of the championship! But sometimes, our engineers are happy when Maverick does a fast lap in a test. If I were a Yamaha engineer I wouldn't just be happy with that lap, I would analyse the whole second part of the season," confessed Rossi, who is apparently the first not to trust the resurgence of the manufacturer.