Get unlimited access
You have 10 articles remaining to view this month.
Honda's Dani Pedrosa believes he had the pace to turn around his unhappy final MotoGP season with a Thailand Grand Prix win had he not crashed out.
Pedrosa, who will retire at the end of 2018, is enduring his worst season in grand prix racing as he is yet to finish higher than fifth this year.
He feels a potentially excellent Buriram race was compromised by a "massive disadvantage" relating to tyre choice.
After being demoted to 11th on the opening lap, Pedrosa had charged through the pack to arrive at the back of four-bike lead group of Andrea Dovizioso's Ducati, Honda team-mate Marc Marquez and the Yamahas of Valentino Rossi and Maverick Vinales.
But Pedrosa then crashed out with seven laps to go.
"I had the feeling there was potential for the win, obviously, regarding the pace," Pedrosa said.
"But then obviously when you arrive to the group, then you have to fight, you have to find the way how to pass, and make things work.
"I don't know how it would be at the end, in the group, fighting, but obviously, regarding the pace it [a win] was possible."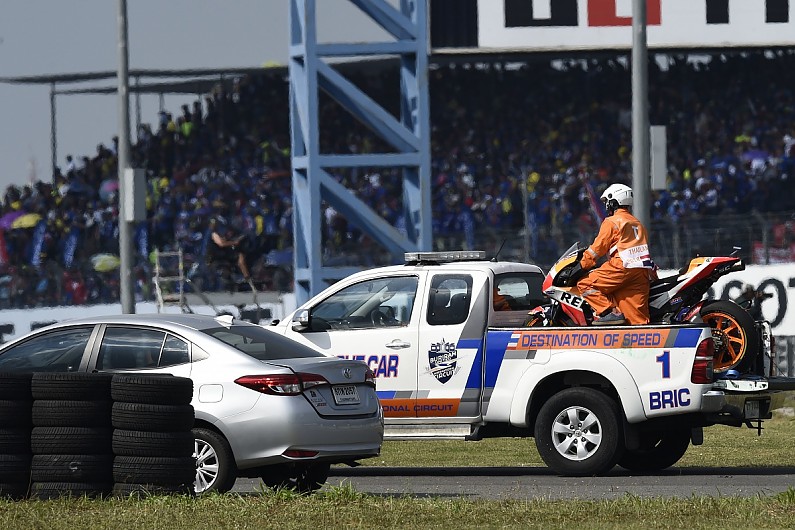 A high rate of tyre wear meant that every rider except Aprilia's Aleix Espargaro began the race on the hard rear.
Pedrosa insisted he had no choice but to use the hard Michelin compound, but felt this disadvantaged him in a major way as he struggled to warm up the tyre.
He reckoned the initial tyre setback had a big effect on his race and ultimately contributed to his crash.
"This was the main problem, we were forced to use the hard rear and I had a huge, massive disadvantage on that, because for me to warm up this tyre was almost impossible," he said.
"It took me five laps, and I had to do two extra [warm-up] laps before the grid to clean the tyre.
"Even then, when I checked [my rivals], they were with a lot more grip in that moment. It was a massive disadvantage."
He said a clutch problem on the grid and then being taken wide by Jack Miller at the first corner contributed to his poor first lap.
"I lost so many seconds, maybe four seconds I lost in the couple of laps, but then I was back to them [the leaders] at one second before the crash, so this is the positive part," Pedrosa said.
"Unfortunately I ended up in a crash, and I think it would be a lot different if I could start from the front.
"But the disadvantage was massive on the rear tyre at the beginning and that's the problem, because nobody cares."
Explaining the crash itself, Pedrosa said: "I was just improving my lap times, I was lapping fast and getting closer every time, just went in and tucked the front on the bump.
"The fork did a strange movement with the bump, I lost the grip there and the front."