Get unlimited access
You have 10 articles remaining to view this month.
Red Bull Formula 1 boss Christian Horner believes Sebastian Vettel's move on Max Verstappen at Suzuka was "optimistic".
Vettel attempted to overtake Verstappen for third down the inside of Spoon Curve after an early safety-car restart, but ended up spinning after colliding with the Red Bull driver.
The stewards took no action, although Vettel placed blame for the incident wholly on Verstappen.
Horner accepted the clash was a racing incident, but did not agree with Vettel's view.
"It's very hard to overtake into that corner," said Horner.
"It's not a big braking zone, and obviously Sebastian was optimistic in his move and Max was robust in his defence.
"For me it was a racing incident, and I think the stewards came to the right decision.
"It was very opportunistic by Seb at a corner that it's very hard to overtake at."
Asked by Autosport about Vettel's move, Red Bull motorsport advisor Helmut Marko said: "I think that was over-motivated. I think that was a racing accident."
Verstappen received a five-second penalty earlier in the race for rejoining the track in a dangerous manner while battling with Kimi Raikkonen, who he made contact with.
"He's a hard racer," said Horner. "He's run deep into the chicane, he'a gone off track, he's rejoined.
"You can see he's not looking in his mirrors, and not really aware of where Kimi is.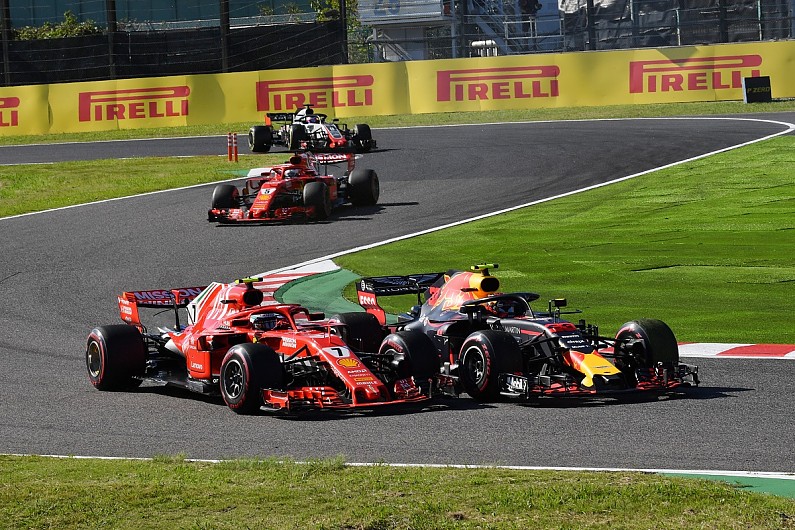 "They've made contact, it's gone to the stewards, they've come up with a penalty, which we accept, and then obviously he's had to pull out the gap to get the pitstop window to clear the penalty [before his car could be serviced].
"We have to accept the stewards' decision. "We felt it was a racing incident. He's not aware of where Kimi is at the point he rejoined. It was unfortunate."
Verstappen later caught Valtteri Bottas in the final part of the race, but was not able to pass the Mercedes despite pushing him hard for many laps.
"In clear air he could do the laps," said Horner. "As soon as they got a little bit into traffic with dirty air around Max was able to take advantage of that.
"Considering where we started, plus the penalty, I think it was a great recovery by Max to be able to put him under that pressure."
Marko noted that Verstappen was fast despite bodywork damage resulting from his clash with Raikkonen.
"He got some damage on his floor, after the incident with Raikkonen he lost more than 20 points of downforce," said Marko.
"And he had a little bit of a problem with the [engine] mapping again.
"Mercedes has so much in reserve. But it was a good recovery to get back the five seconds, I think for both of our cars [Daniel Ricciardo finished fourth] it was the maximum."