Get unlimited access
You have 10 articles remaining to view this month.
Clint Bowyer says he feels "sick" for ruining his Stewart-Haas Racing team-mate Aric Almriola's chances of victory in the NASCAR Cup series race at Dover.
Almirola had inherited the race lead on lap 320 of 404 when erstwhile race leader Kevin Harvick was forced to pit with a loose wheel.
With eight laps remaining, Bowyer hit the wall at Turn 4 and brought out a caution. Almirola had to restart in sixth after making a late stop and three others opted to not pit and another two drivers went for just two new tyres.
Almirola then crashed on the restart lap, which made it two races in 2018 in which the SHR driver lost a likely win to a Bowyer crash after he also missed out in New Hampshire earlier this year.
"I'm just really disappointed," said Bowyer. "I'm frustrated with our day, obviously, we had a very fast race car.
"I got tore up passing a lapper and then all of a sudden I think it was a loose wheel.
"Then we went back out and broke something in the front end and it was two different things.
"When we pitted it was something in the rear, obviously, the right-rear, the left-rear was loose, it was all out of control.
"Then all of a sudden [when] we went back out it was fine, so I took back off and then I think something in the left-front broke, it just went straight.
"Whether I ran over something, I don't know. "I'm just sick for Aric. He had that race won. It was his win and unfortunately his team-mate had trouble and took him out of it."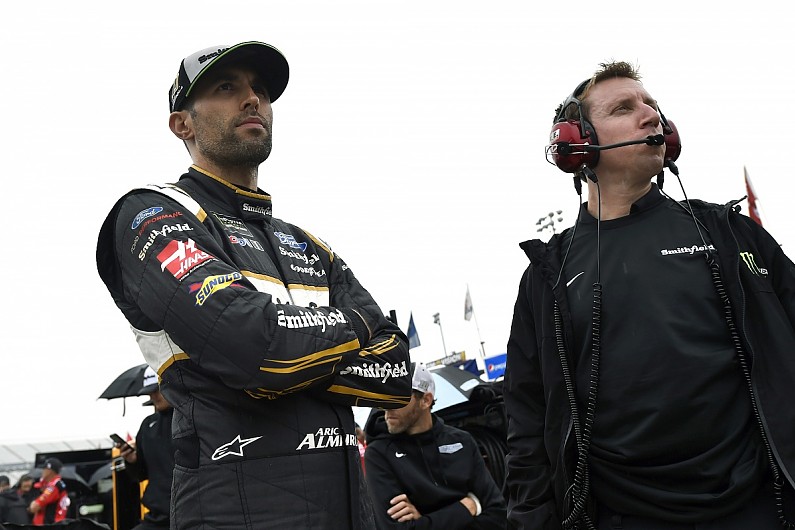 Almirola felt he should have been celebrating a first Cup win.
The former Richard Petty Motorsports driver joined SHR in place of Danica Patrick for 2018 and is the only driver in the team that is yet to win a race.
"We've had so many opportunities and been so close and had the car to win and been in position and I don't know, it just seems to not come through – I'm frustrated and mad and angry," said Almriola.
"I could have been conservative and probably finished third or fourth like Kurt [Busch], it's just track position is so tough and it's so hard to pass here.
"We rolled down pit road and a few of them stay out and a few of them get two tyres and the next thing you know we're restarting sixth, so with only three laps to go it's really challenging at this race track in particular with it being so hard to pass.
"That's one of those situations where you're damned if you do and damned if you don't.
"I want to be in Victory Lane. I feel like we've got a car capable of doing that."