Get unlimited access
You have 10 articles remaining to view this month.
Stewart-Haas Racing's Kurt Busch has expressed his frustration at the NASCAR officials for "two missed calls" in overtime during the Cup series playoff race at Talladega.
Busch had led a race-high 103 of the 193-lap race after winning pole and leading a dominant SHR team that raced tactically to ensure its drivers maintained a high chance of moving into the next round of the playoffs.
The SHR veteran led until the final three laps when Alex Bowman crashed his Hendrick Motorsports Chevrolet Camaro into the outside wall, sending the race into overtime with an eventual five further laps being completed.
Busch opted to stay out rather than pit for fuel, as did all the SHR Fords bar Kevin Harvick, but Busch's #4 team had calculated his fuel to last for four laps.
A multi-car crash involving Chase Elliott on the final lap also drew Busch's ire, believing the race should have ended under white flag conditions.
Instead, Busch was one of several drivers to run out of fuel on the final tour, handing his team-mate Aric Almirola the win.
"Yeah I was trying to use all the information I could with my guys telling me about how the other team-mates were lifting, what their fuel mileage looked like," said Busch.
"You don't want to conserve too much and draw the gap of our cars back to the other guys.
"I was trying to do what I could to manage the fuel and there was two missed calls by NASCAR there at the end.
"Why [we had] an extra yellow flag [is] beyond me.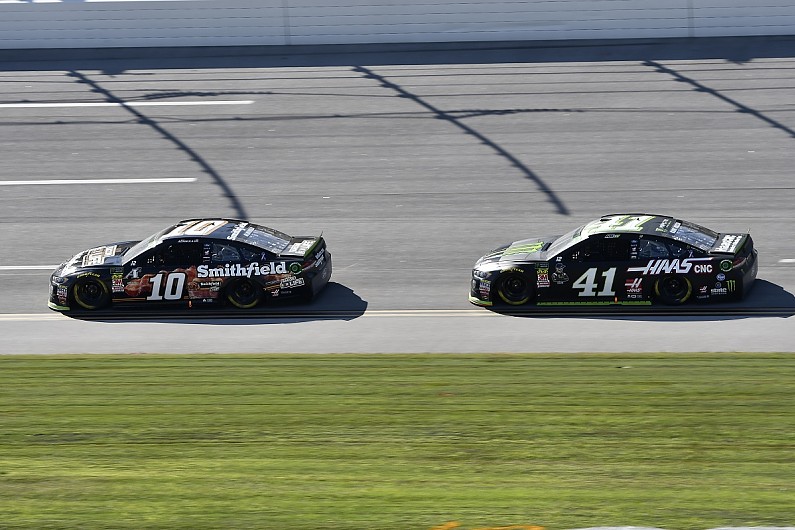 "The track was ready to go. And at the end you know, once we crossed the white flag, if there's a wreck, an ambulance needs to be dispatched.
"I've been on the other side of that where I was racing coming back to win the race and they said, 'well we had to dispatch an ambulance'.
"There was two cars dead in the water down there, Chase Elliott's safety is of my concern, so is the #32 car [of Matt DiBenedetto].
"And so, it's a human call. There's rules that need to be stricter at the end of these races."
NASCAR responded to Busch's comments in a statement several hours later.
"We were closely monitoring each car involved, and were actively communicating with spotters and safety trucks in Turn 1," it read.
"All cars were able to either roll off under their own power or signal they were clear.
"As always, we make every effort to end under green for our fans in the stands and at home, which we did."