Get unlimited access
You have 10 articles remaining to view this month.
Kyle Larson and his Chip Ganassi Racing NASCAR Cup team have been hit with a post-race penalty after last weekend's Talladega race that has damaged his playoff hopes.
Larson finished 11th at Talladega race, and said his pace was "embarrassing" at times.
He spun out during the race and forced his Ganassi team into making repairs, which led to the offence that incurred the penalty.
NASCAR has issued a substantial penalty to Larson's #42 car, citing section 10.9.9.d of the rulebook, which covers damaged cars and mechanical problems.
No specific infringement has been cited, but the rule in question states "damaged vehicle repair, regardless of how the damage occurred, is permitted to have original body parts removed or reattached in their original location with fasteners and/or tape only."
Larson and his team each lose 10 points as a result, meaning he is now further away from the cutoff going into the round of eight, trailing by 36 points.
He is likely to need victory at Kansas – the same venue at which he exited the playoffs in 2017 due to an engine failure, despite having a 29-point buffer going into the race – to make it into the round of eight.
As a result of the penalty, Larson's crew chief Chad Johnston has been fined $25,000, while car chief David Bryant has been suspended for the next race.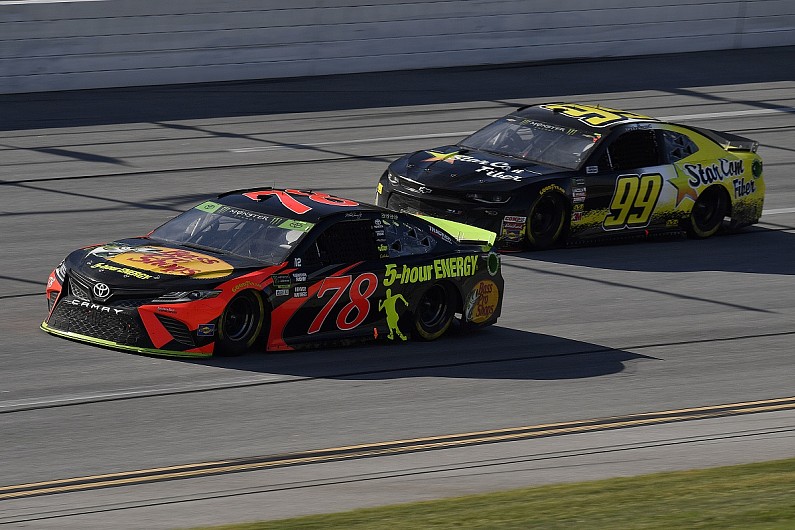 If Larson is to make the top eight for the next stage of the playoffs, he would likely need to bump out reigning Cup champion Martin Truex Jr.
The Furniture Row Racing driver almost won last month's Charlotte Roval race, but has since had two disappointing finishes at Dover (15th) and Talladega, where he was 23rd after a crash.
That leaves Truex seventh in the standings but, with eight-placed Chase Elliott already through courtesy of his Dover win, he has an 18-point buffer to Penske's Brad Keselowski in ninth.
Truex can take solace in his Kansas record; he has won at the circuit twice, and holds an average finishing position of 10.4.
"There are a number of scenarios for the remaining six transfer spots," said Truex.
"We can't worry about others, just need to focus on our programme and go out and do it ourselves.
"Kansas has been a great track for us and we just need to continue what we've been doing there the past few years.
"But this is racing and anything can happen as we saw in Talladega.
"I have had chances to win multiple races there [at Kansas] over the years with different teams.
"It was one of the places I was successful at before Furniture Row so for whatever reason it just points towards my driving style and my comfort level, what I like in my race car. It just seems to work out well there."