Get unlimited access
You have 10 articles remaining to view this month.
In association with
Marc Marquez clinched an incredible fifth MotoGP title this weekend in Japan. Oriol Puigdemont spoke to the Honda rider's crew chief, Santi Hernandez, to understand what made him so strong again this year.
At the start of the year, teams and riders study the calendar to get a clear idea from which will be the best circuits to mount an attack – and for Honda and Marquez, Termas de Rio Hondo in Argentina has been a happy hunting ground, as they've won there twice (2014 and '16).
However, on neither of those occasions were they as strong as during the free practice sessions in the lead-up to this year's Argentina race.
What happened that Sunday was completely unexpected for everybody and had a direct influence on the evolution of the championship: Marquez's engine stopped on the grid and his attempts to restart his bike on the grid earned him a ride-through penalty.
During his fightback, the Catalan had a couple of moments with other riders, but what caused a big fuss was the one that made Valentino Rossi crash, resulting in another penalty for Marquez.
Not only did Marquez have to deal with failing to score points in a race he could have easily won, he also had to handle and manage a huge number of critics – not least of all Rossi himself, who labelled his adversary: "dangerous".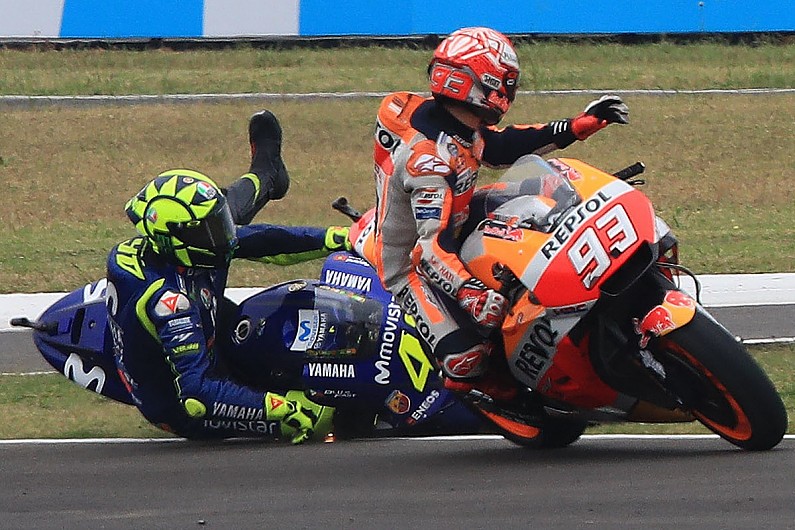 Dealing with such a situation is no small task, and if Marc had been affected in the following races, it would have been understandable.
"It's true that we've had important moments, first of all in Qatar, as we didn't expect to be that close to [Andrea] Dovizioso [finishing second]," Hernandez told Autosport.
"But if I had to point out the key moment of this year, I would pick the way Marc faced events in Argentina and how he recovered from that moment. Others in that situation would have changed their approach."
Marquez's reaction was emphatic, as he followed up his Argentina DNF with three successive victories at Austin, Jerez and Le Mans; thereby opening up an advantage of 36 points – and from that point on the outcome of the championship never looked in much doubt.
Hernandez and Marquez have been working together since 2011, when the Cervera-born rider graduated to Moto2 after becoming 125cc world champion in 2010. They've achieved six titles along the way: one in Moto2 in 2012, and five in MotoGP (2013, '14, '16, '17 and '18).
Reflecting on their incredible success together, Hernandez likened Marquez to another Spanish sporting icon, tennis star Rafael Nadal, underlining his dogged determinedness, unshakeable self-belief and an intense desire to triumph in adversity.
"Marc is like Nadal: a man that never gives up, that takes risks and that gives it his all, like when he beat Roger Federer at Wimbledon [in 2008] on theoretically not his best surface," Hernandez said.
"A man that in really critical moments is able to do something implausible."