Get unlimited access
You have 10 articles remaining to view this month.
Toyota World Rally Championship signing Kris Meeke says the atmosphere at his new squad is "completely different" to his experience with any other team he has driven for previously.
The former Citroen, Peugeot and Prodrive Mini WRC driver said four-time world champion team boss Tommi Makinen brings a different dimension to the team.
Meeke has shied away from directly comparing the Yaris he tested last week and the Citroen C3 he drove until the French squad dropped him in May, but hinted Toyota offers a better working environment compared with what he knew at Citroen.
"My dealings with Tommi [Makinen] and meeting the team, it truly does feel like family atmosphere," said Meeke.
"Tommi's base feels like a natural environment. It's rally country, you know you're in the heart of Rally Finland here.
"And just dealing with everybody, they're just good, decent guys pulling in the same way and this is refreshing for me.
"Since my departure out of the championship in May I took a few months to myself, but when I lifted to phone to Tommi it all seemed to click.
"I came out to visit him in Jyvaskyla and I could sit and talk for hours about the car and the technical aspects.
"It's all forward-thinking and that was refreshing, it's not something I've been used to for quite a period of time.
"There were maybe some options on the table, but I said if I wanted to come back then I wanted to come back in the proper way and the way Toyota is approaching it long-term – and the success they're having in just their second season – there was no doubt where I wanted to be.
"The environment at this initial stage feels very nice, it's something completely different to what I've had before in my career."
Makinen emphasised it was important for Meeke to feel comfortable in new surroundings.
"I want Kris to come and enjoy being with us, I want him to enjoy the driving," Makinen told Autosport.
"We saw this year with Jari-Matti [Latvala]: when you take away the pressure from his shoulders then the speed and the enjoyment and the results are coming.
"Kris has to drive to enjoy himself, this is the most important thing. I don't want him to take any pressure and then he can take the best result."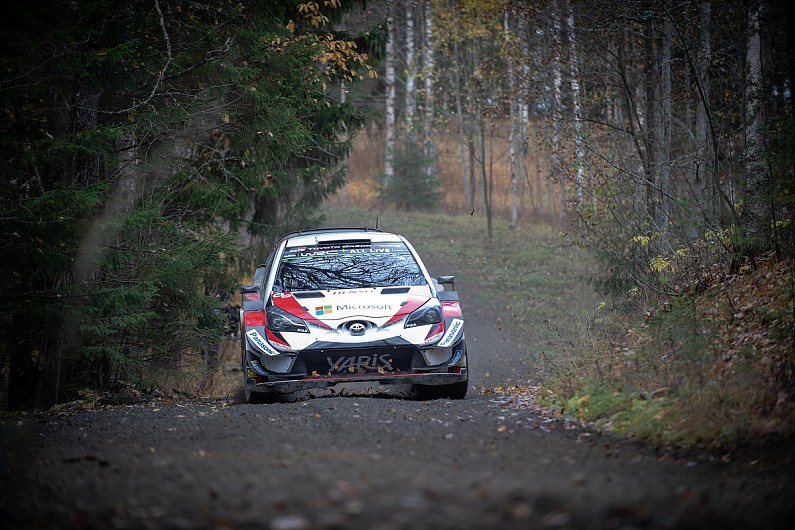 Meeke's early running in the Toyota was shrouded in speculation of a testing crash. Makinen confirmed that had happened, and laughed off social media rumours that a picture had been faked to show the car off the road.
Makinen added: "The picture was not a joke. It was some very, very small mistake.
"It was in a long corner which came more narrow and the speed was completely zero. There was no damage to the car, it was just on its side.
"Honestly, it was completely harmless. I'm not bothered about that at all.
"The guys, they can push it back and carry on. It was no drama."