Get unlimited access
You have 10 articles remaining to view this month.
Aleix Espargaro says debris from Johann Zarco's crash in last weekend's Phillip Island MotoGP race struck his left hand, moving the titanium plate he had fitted after his 2017 accident.
Zarco suffered a heavy crash at Turn 1 on the fifth lap of the Australian race as the Tech3 Yamaha rider made contact with the rear of Marc Marquez's bike.
The incident left some debris on the track and a piece hit Espargaro's hand after rebounding off the Aprilia rider's clutch lever.
He went on to finish ninth and revealed after the race that the impact had moved the titanium plate inserted in the wake of his crash at Phillip Island last year, which caused him some pain.
"I couldn't see anything, I was in the draft [with] many bikes in front of me," recalled Espargaro.
"I was 20th or 18th at the beginning of the race so it was difficult to see in front.
"I just saw a big black piece coming super-quick to me – it hit my handlebars, the clutch lever went completely down, then it hit my hand.
"At the beginning I thought I couldn't continue, I'm lucky [that] in MotoGP we don't use the clutch.
"Lap by lap I start to feel better but every time I opened my hand I felt a lot of pain.
"The problem is the plate has moved, the plate they put in last year here after my crash. It pushed the tendons, which is why I felt pain."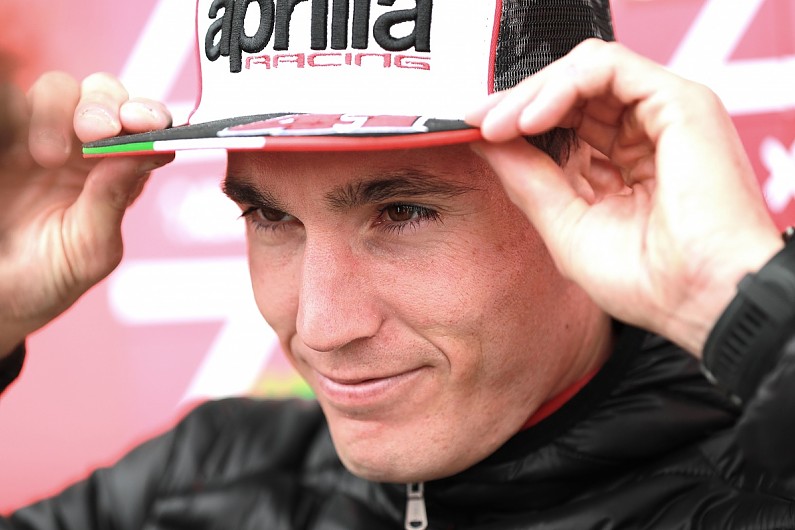 But Espargaro explained that he does not anticipate the situation will prevent him from taking part in this weekend's Sepang race.
"I will try [to race]," he said. "It's not related to pain, because if I could race here I can race in Malaysia.
"It's more related to how the plate has moved, [whether] it is dangerous. We will see."
After a couple of difficult races in Thailand and Japan, Aprilia prepared a 'lab' bike featuring a new chassis for Espargaro to sample at Phillip Island, and the Spaniard said he was pleased with the results of the experiment.
But he reckons the team must see how the revised machine performs at a more typical track, such as Sepang, before drawing definitive conclusions.
He said: "I can see the light a little bit because the bike is a lot different.
"At the beginning of the race when the bike worked good, [on a] full tank, I started to lap [quickly], I felt great during the race.
"[But] this track is quite strange. I don't want to think [that] what we tried here is good or bad; I want to go to Malaysia and just work this bike and see what it brings."