Lewis Hamilton says fellow Formula 1 world champion Fernando Alonso's key career mistake was thinking he "controlled" the driver market when he left Ferrari.
Hamilton and Alonso had an intense battle for the F1 title as McLaren team-mates in 2007, when they were ultimately both pipped by Ferrari's Kimi Raikkonen, but have not gone head to head for a championship since.
Alonso never managed to add to his 2005/06 crowns, but Hamilton became a five-time world champion last weekend. Hamilton believes Alonso's error was letting go of his Ferrari seat in 2014.
Ferrari signed Sebastian Vettel in his place, and Hamilton reckons Alonso only then ended up at McLaren because hopes of joining Red Bull or Mercedes were dashed.
"I don't regret he didn't go in a better car," Hamilton told Autosport. "I know he could have had more world titles.
"But ultimately it's not like he didn't have opportunities. "He was a top driver and he could go almost where he wanted to go. And decisions are very key.
"Decisions are where you place yourself. It is key though if you wrongly think you control the driver market.
"He believed he controlled it [in 2014]. In my understanding, as soon as he gave up the position [at Ferrari], Seb grabbed it and then it's not like he could go back.
"Then he was like: 'I'll go for Seb's spot [at Red Bull]'. But then they filled it.
"And then he was like, 'Oh, shit'. And there was no place where I was [at Mercedes].
"But I have so much respect for him.
"He is a phenomenal driver and through these years his respect level has still remained very high – how he has driven, and how he has conducted himself exploring outside [F1] in different realms.
"I could make the decision to leave this team and go somewhere else, which would be a risk, and that decision could either bode well or go bad for me."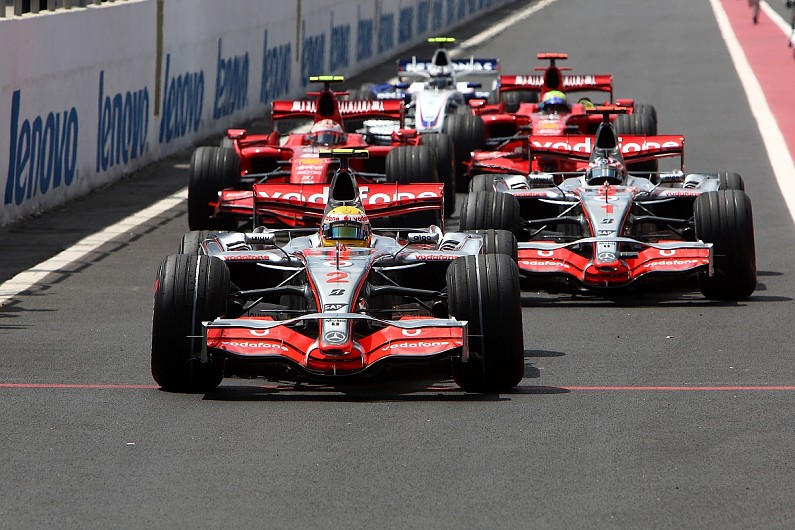 Looking back at the 2007 campaign, Hamilton thinks people did not appreciate the pressure he was under at the time as he went up against Alonso as an F1 rookie.
"I feel like people underestimate that season," he said.
"Yes I did, unlike other people, come into a top team. But it is easier probably in some respects to be in a lower team where you don't have so much pressure.
"Being in a top team straight away and having to try to deliver to a two-time world champion who has been through what I have been through to this point, is a huge demand.
"It was one of the toughest years of my life to balance everything.
"Plus, I had not had any fame. All of a sudden people were taking pictures, [and I was] travelling more than ever.
"It was tough, but looking back now I really appreciate that year. But I wish I knew then what I know now."