Ducati MotoGP rider Andrea Dovizioso admits he isn't totally certain of the cause for his "really bad race" in the Malaysian Grand Prix.
Barring his crash in Japan two weeks ago, Dovizioso has consistently finished on the podium since August's Czech GP, but his sixth-place result in Sepang marks his second-worst points finish of the year.
The Italian looked to have the pace to fight for victory in practice on Friday, topping FP1, although he was only fifth-quickest in a rain-hit qualifying session on Saturday and fell on his final lap.
Come the race, he progressed only as high as fourth before slipping behind Alex Rins, Dani Pedrosa and Maverick Vinales, with Valentino Rossi's late crash promoting him to sixth.
Dovizioso couldn't offer a clear reason for his lack of performance speaking to media post-race and said Ducati must "study" exactly what went wrong.
"The difference [in speed] from practice was too big," he said.
"I don't want to say something clear, because maybe something was wrong, I don't know, maybe not. It's too early to know.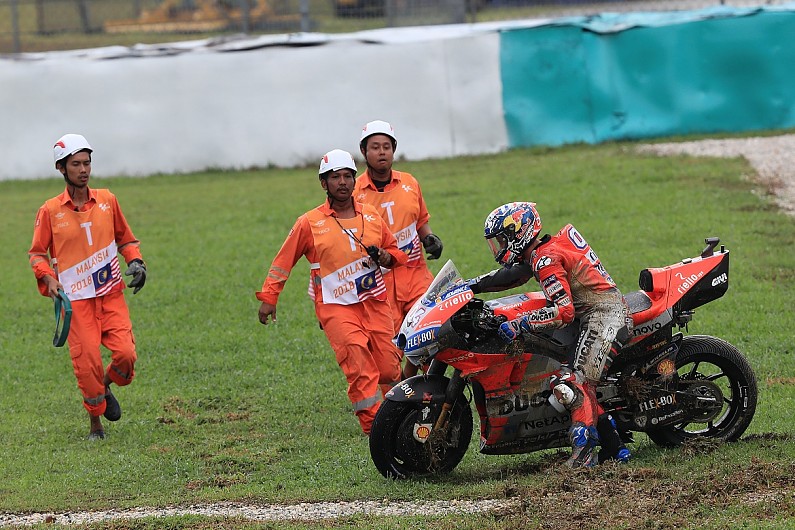 "From the beginning I couldn't brake, I couldn't make speed in the middle of the corners. I had to ride in a different way, that was strange.
"I couldn't make the laptime. [In practice] I was able to make [2m]00s-low with a used tyre, [in the race] it was difficult to me to make [2m]01.5s.
"The conditions [on Sunday] were a bit hotter because there was the sun, but we don't know [if that was the cause]. The difference from practice was bigger than all the other riders. For sure, a really bad race."
Asked if it could have been a defective front tyre, Dovizioso replied: "I would like [to think so] but sometimes it's not like this. We have to understand, that make a big effect in the way we work for the future."
Despite his disappointing result, Rossi's crash means Dovizioso has secured second in the championship behind Marc Marquez, who took an easy win after the Yamaha rider's exit.
"I'm really happy to confirm second position [overall]," Dovizioso said.
"Valentino today did an incredible race, his speed was unbelievable, but he did a mistake, so we arrive second in the championship.
"We did too many zeroes in the season, but from Brno until now we did a lot of points because we improved our speed and I'm very happy with the way we worked this season.
"At the moment Marc is a bit faster than us, so we have to continue to work in the way we worked this year, and be more ready next year."