Malaysian Grand Prix winner Marc Marquez said he "didn't have anything more" in his fight with Valentino Rossi before the Yamaha rider crashed out late on at Sepang.
Starting seventh after being handed a six-place grid drop for impeding Andrea Iannone in qualifying, the 2018 champion quickly moved up to second and then spent the majority of the race circulating around a second behind Rossi.
Marquez started to inch closer during the final 10 laps but was yet to make an overtaking attempt when Rossi crashed with three laps remaining.
The Honda rider explained that the last laps would have been too close to call without Rossi's mistake.
"The plan was to try, I was there to try in the end," said Marquez.
"I didn't have anything more, we were both riding in the limit, we were riding 2m01s low, 2m00s high, was really fast pace.
"Then I saw that he started to struggle so the plan was to try to arrive in the end, and only remained four-five laps so was going to be very close, but the plan was just to arrive there and try to fight.
"Then we would've seen, because our level was very equal."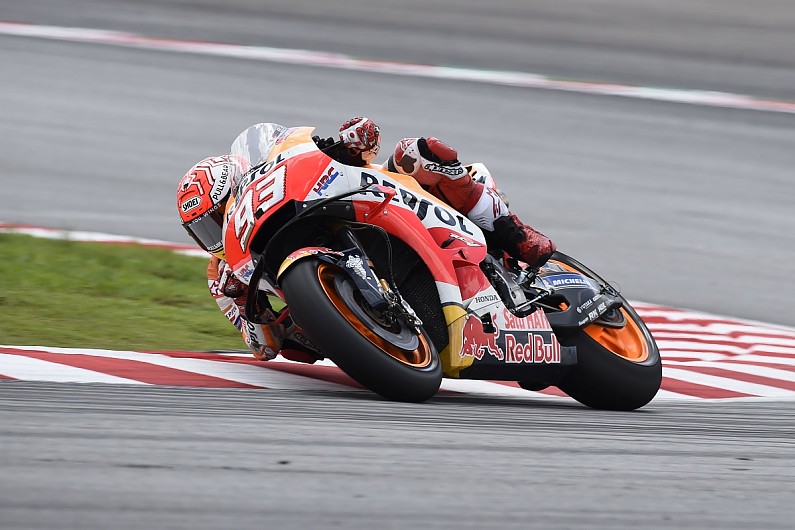 Marquez said that he didn't have the perfect bike on Sunday and had several close calls on his way through the pack.
"Today was an extremely hard race because I felt like I did a great job all weekend but we didn't have the perfect bike on the race," he recalled.
"I was just riding by instinct, not by using the head, I was just trying to race, to push. I nearly crashed three or four times during the race.
"It was a very hard race because we start from seventh place so that [gave me] extra motivation because starting from the third row I never won in the past.
"The first lap was good but not the best one of my career. I overtake some riders but then I see that Valentino was pushing really hard from the beginning then I pushed too, it was like qualifying practice, but I overheated my tyres.
"When I just overtook Johann I just started to struggle a lot, looks like Valentino was really close but I started to struggle, I started to feel uncomfortable I lost the front in last turn, I saved with [my] elbow.
"Then I say, 'okay, cool down, try to be smart, try to understand which is the situation with the tyres'. I did it, and then step by step I started to feel better, I started to feel like still I was catching tenth by tenth Valentino and that was another extra motivation.
"On that corner [Turn 1] he was a little bit wide, but when you are fighting like this you don't want to lose any tenths and then he tried to come back quick but he lost the front."