Valentino Rossi admits he was "devastated" that his victory bid in the Malaysian Grand Prix ended in a crash, which he described as his "first mistake of the season".
Rossi took the lead from poleman Johann Zarco at the start and led for 16 laps before crashing with three laps to go, as he started to come under pressure from eventual winner Marc Marquez.
If he had held on to win, it would have been Rossi's 90th victory and his first for 28 races, having last won at Assen in 2017.
Although he subsequently remounted, Rossi could only finish 18th, which marked the second time he has failed to score points this year, following his controversial clash with Marquez in Argentina that left him down in 19th.
"We have to say that is my first mistake of the season because I arrive always at the end, except in Argentina," said Rossi.
"Maybe is the worst moment [for the mistake], I am devastated for the crash.
"On the other side I am also happy because anyway we live the dream for 15 laps, and after the victory of my brother [Luca Marini in Moto2] also could've been a great day, but it's like this.
"For one side I am very happy for the race because is the best race of the season for me and is also coming in difficult condition and in a difficult track for us. This is very important.
"On the other side is a great shame, I am very disappointed for the mistake and make a race like this and go home with zero point is frustrating."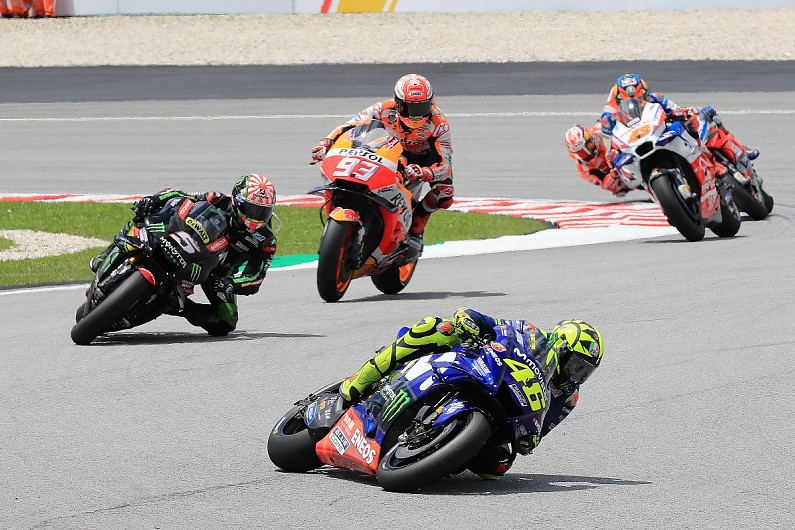 Rossi was unable to give an explanation for his crash, but said it was induced by the rear, not the front, tyre sliding.
"I don't know, we have to check," he said.
"I push for sure but I push for 15 laps the same.
"When I touch the throttle, slide the rear and I don't expect sincerely because usually I am more worried about the front. I was a lot on the edge, the rear slide a bit much and the bike go down."
By failing to score, Rossi also lost the fight to runner-up to Ducati rider Andrea Dovizioso, who had a low-key run to sixth, and is only two points ahead of Yamaha team-mate Maverick Vinales heading into the Valencia finale.
"Today the result can be very important also for the championship," he said.
"If I don't win and I arrive second, I close the third place with Maverick also I can be five points from Dovi for second.
"Now we have to fight Maverick in Valencia for third place."