In association with
Ducati failed to properly manage its riders during the Malaysian Grand Prix weekend, and the Italian manufacturer's bosses must make sure the team's priorities are clear.
Jorge Lorenzo missed his fourth consecutive race after pushing the limits on Friday, just nine days after an arthroscopy on his left wrist. It was obvious early on he was not in shape, and he ended second practice session more than five seconds off the pace.
However, he waited until the moment he got up on Saturday morning to officially grant his seat to Michele Pirro – despite the fact that the manufacturer had already decided he had to be in Malaysia, somehow anticipating the possible news.
Lorenzo managed to complete 22 laps across practice on Friday (on Sunday he was supposed to do a 20-lap race) and considering how slow he was, overall it was more than evident he was not able to keep going with the regular procedure of the session.
The fact Lorenzo decided to wait one more day to withdraw leads to speculation regarding a hypothetical sanction Ducati could have considered imposing on him, as he has missed too many grands prix.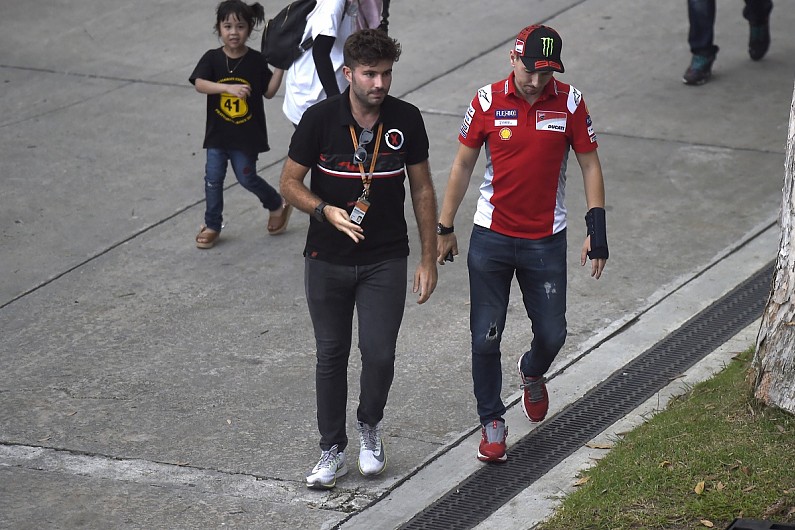 Both parties may believe they have strong arguments to reaffirm their positions. Ducati has now been without the rider it originally signed to be its number one for a quarter of the championship, while Lorenzo was injured in Thailand as a result of a bike failure, by the team's own admission.
Was it necessary to let it get that far, especially when both parties were aware that the only way to move forward was to have Pirro on board the 'second' Desmosedici? Would it not have been better to simply reach an agreement before in which Lorenzo's withdrawal was contemplated?
To top it off, Lorenzo and Andrea Dovizioso starred in yet another clash, when the Italian suggested his team-mate is a regular visitor of that kind of "weird situation", a veiled accusation that provoked a series of tweets from Lorenzo.
There he defined Dovizioso as a "jealous man" and was mocking of his sporting achievements. Ultimately, it was a squabble and the only thing it achieved was to weaken Ducati's image.
It would be a good idea for the executives to sit their two riders at the same table to make it clear their egos might be beneficial when it comes to winning races, but individualism can never be priority for a manufacturer as intrinsic in MotoGP as Ferrari is to Formula 1.