Ducati will hold a clear-the-air meeting with its MotoGP riders Jorge Lorenzo and Andrea Dovizioso after the feed that broke out between them during the Malaysian Grand Prix weekend.
The war of words began when Dovizioso passed comment on Lorenzo being forced to withdraw from a fourth consecutive race due to injury.
Dovizioso insinuated that Lorenzo regularly finds himself such situations, prompting a furious social media response from his team-mate.

Why Ducati needs to control its riders
After finishing the race sixth, Dovizioso played down the squabble by saying only that Lorenzo attached too much importance to his words and had misinterpreted.
Ducati sporting director Paolo Ciabatti admitted there were already plans to get Dovizioso and Lorenzo together in Milan on Tuesday for talks.
"It is clear that Ducati comes before personal problems between riders," Ciabatti told Autosport.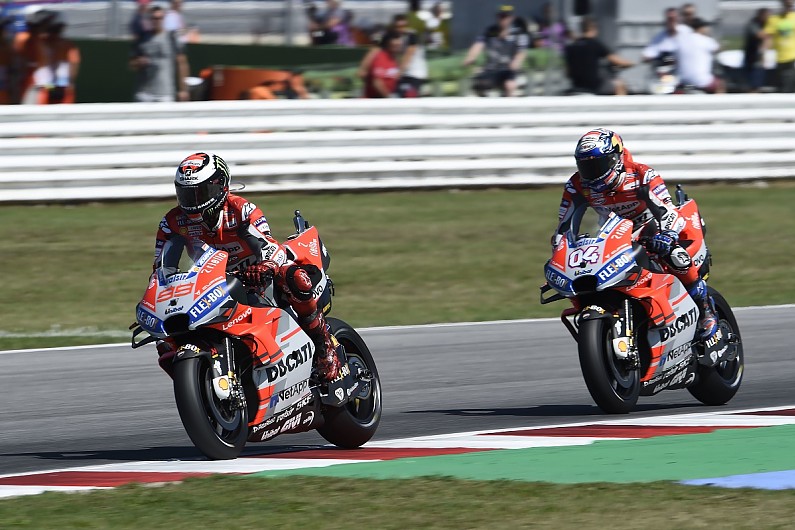 "On Tuesday we will be together in Milan, for the EICMA [motorcycle show] and we have in mind to spend half an hour to sit and talk to Jorge and Andrea.
"We want to avoid similar things to what happened last weekend.
"I understand that these kinds of situations can happen. Sometimes riders get nervous during a grand prix weekend and on a rainy day, with tricky conditions, sometimes they say things they shouldn't have said."
Dealing with such situations is not new for Ciabatti, who had to intervene when relations soured between Dovizioso and then-team-mate Andrea Iannone in 2016 after a final-lap collision over second place in Argentina.
"There are moments in which you have to say 'stop'," Ciabatti added.
"Ducati is more important than its riders' egos, and I think they are both clever enough people to understand that."