Newly-crowned Moto2 champion Francesco Bagnaia has revealed he passed up a "possibility" to graduate to MotoGP in 2018 to try to win the intermediate category instead.
Bagnaia, who is part of Valentino Rossi's academy, ended the 2017 Moto2 season as top rookie in fifth overall.
While Bagnaia said he turned down a chance to move to MotoGP for this year, he agreed a deal to join the Pramac Ducati squad for 2019 before the start of the current season.
"I had the possibility this year to go in MotoGP but I was thinking it was better to try to win it [Moto2] because the team was able to win, the bike was capable, we can do a better job than last year," said Bagnaia.
"I've signed [with Pramac] without any victories in Moto2 and the people say, 'why do you move to MotoGP, you've never won' – a lot of journalists said that.
"It was obvious to sign [for 2019] this year because I had a good opportunity from Ducati and Pramac.
"I was thinking that was better to have clear mind all year, no thinking about next year.
"It has been the key I think because this year when I started I already had a contract in MotoGP and I was fully concentrated on Moto2."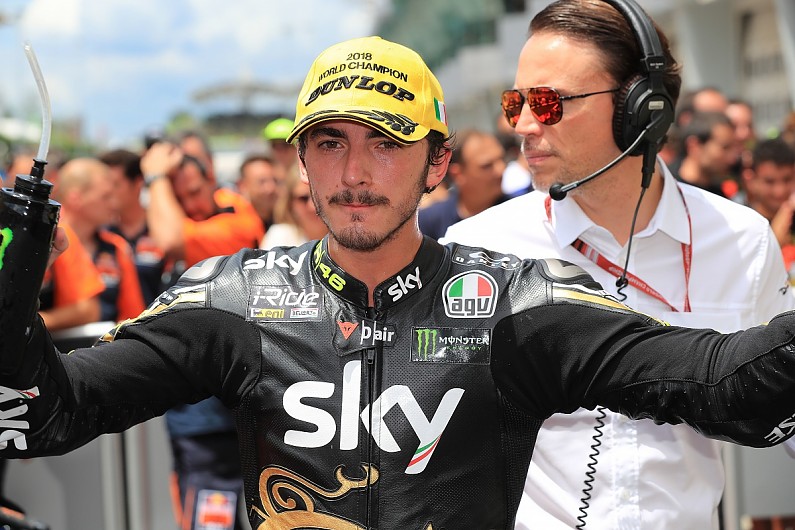 Bagnaia said he will have the same approach to his rookie MotoGP season as he had in first year in Moto2, even though he expects to "start from zero".
"Moving to MotoGP is like starting again from zero because it's something completely different, you have to start working more again on the bike," he said.
"Ducati gave to me all I asked [for] and was pushing a lot for having me, and this is important to start a new adventure.
"I am very happy to start a new adventure, I want to understand all the new things I have to learn and do my best like last year, the first year in Moto2.
"I am with the top best riders in the world, and I am riding with Valentino in the same moment. This is something big."