Stewart-Haas Racing's Kevin Harvick's guaranteed place in the NASCAR Cup Series championship shootout at Homestead has been lost due to a L1 penalty incurred at Texas Motor Speedway.
On Wednesday NASCAR announced that Harvick and his #4 SHR team have been hit with a penalty of 40 driver and owner points for a spoiler infraction.
Harvick's Texas win was ruled as 'encumbered', which means it cannot count towards a place in the championship's 'final four'.
A NASCAR statement said: "The team violated Section 20.4.12 of the NASCAR Rule Book that is specific to spoilers.
"Spoilers must be used exactly as supplied from the manufacturer and not altered.
"The infraction was discovered in post-race tear down at the NASCAR Research & Development Centre."
Harvick's crew chief Rodney Childers and car chief Robert Smith have also been suspended for the next two races at Phoenix and Homestead, adding a further blow to his championship hopes, with Childers also fined.
The points deduction drops Harvick to fourth in the playoff standings, which means he can still qualify for the title decider by holding that position or by winning at this weekend's Phoenix race.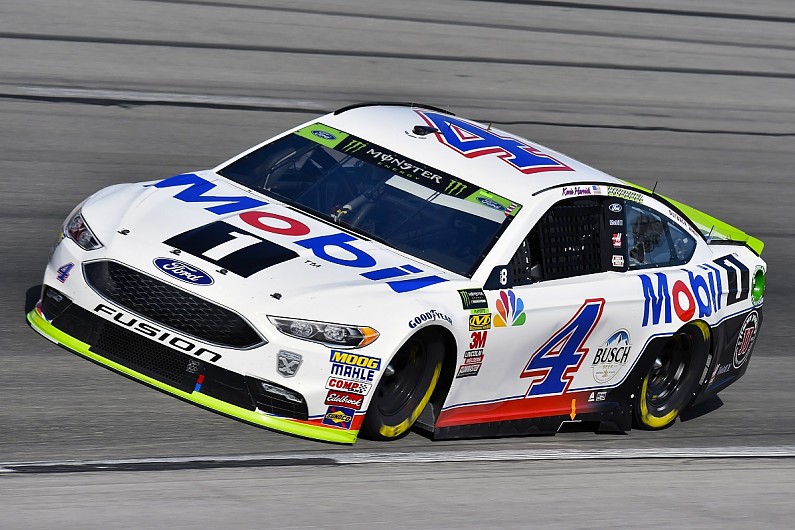 Harvick's margin over SHR team-mate Kurt Busch in fifth place is just three points.
SHR said it would not appeal the penalty.
"We work tirelessly across every inch of our racecars to create speed and, unfortunately, NASCAR determined we ventured into an area not accommodated by its rulebook," said vice president of competiti Greg Zipadelli.
"We will not appeal the penalty. Instead, we will direct our immediate focus to this weekend's event in Phoenix and control our destiny on the racetrack."
Tony Gibson will serve as Harvick's interim crew chief for the next two weeks and Nick DeFazio will serve as interim car chief.
Harvick has already been hit with an L1 penalty this year, after a rear-window infraction at Las Vegas that led to the driver criticising NASCAR's approach to penalties.
NASCAR also announced two other L1 penalties on Wednesday following the Texas race, with runner-up Ryan Blaney and his #12 Penske crew hit with a penalty of 20 driver and owner points.
Joe Gibbs Racing's Erik Jones and his crew have also received the same punishment.
The drivers and teams will also be without their car chiefs for the next two races, with their crew chiefs fined.
Neither driver is in playoff contention.
Joey Logano is now the only driver locked into a title shootout spot thanks to his Martinsville win.
Kyle Busch and Martin Truex Jr are in strong positions via their points tallies, with Kurt Busch, Chase Elliott, Aric Almirola and Clint Bowyer the other drivers still in the hunt.