Thierry Neuville insists he still has the edge in the 2018 World Rally Championship fight, despite Sebastien Ogier deposing him from the series lead heading into the decider.
Hyundai driver Neuville relinquished his grip on the WRC's top spot – a position he has held since Sardinia in June – after finishing fourth on Rally Spain as Ogier took second.
But that means Ogier must run first on the opening day of the finale in Australia and will be sweeping the hot, dry gravel roads clear for cars behind.
His lead is only three points, with 30 still available.
Asked who he thought held the upper hand in the title fight, Neuville told Autosport: "Not Seb".
He joked that "it's time somebody else was cleaning the road" after his stint at the head of the standings and said he would rather be a close second in the points given the running order rules.
"I think it's better to be second and just a few points behind," said Neuville.
"It's always difficult to say. If I get a problem he will be champion. But I think it's not the most uncomfortable situation.
"The gap is small. It's going to be intense and interesting."
Ogier insisted he would rather have the points advantage, and did not consider slowing in Spain to make sure Neuville was first on the road in Australia.
"I'm happy to be going there in the lead of the championship," he told Autosport.
"It will be tough, I know it will be tough – we all know it will be tough. "But it's better to have the points in the bag, I always said this.
"Honestly, I didn't really think to play tactics – it's impossible to think to drop time and drop points to take a better place on the road in Australia."
Though Neuville triumphed in Australia last year, Ogier won the rally in both 2014 and '15 – having been first on the road on day one both times.
"I've done it before and I'll try to do it again," he added.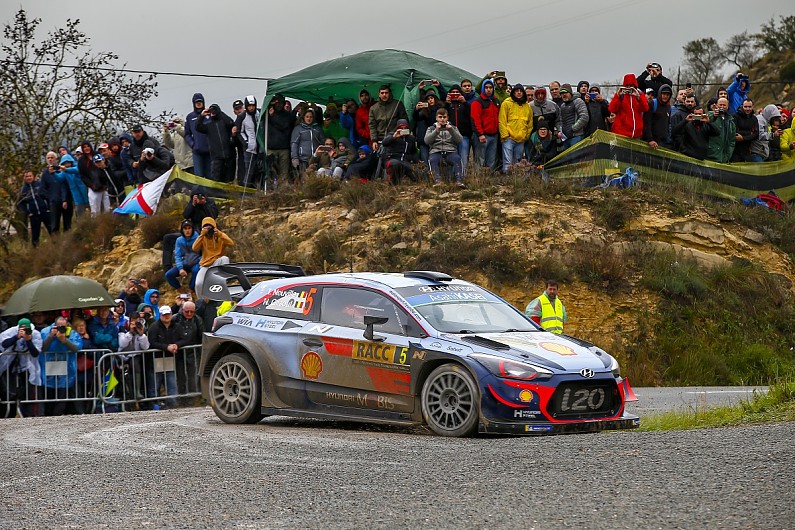 Neuville said changes Hyundai had made to its i20 for Spain had worked, but was still unnerved by the pace of some rival cars.
"We didn't see much understeer, which is good," he said.
"But there's still some work to do when you see the speed of the Toyotas and the speed from the Citroen on Tarmac."
He doubts Hyundai will be able to bring anything to Australia that will substantially increase its pace.
"I think there needs to be some design work as well as just set-ups," said Neuville, who last won in Sardinia in June.
Toyota's Ott Tanak also retains an outside title shot, 23 points behind Ogier.
He has dominantly led the last five WRC rounds, winning three of them but then hitting trouble while first on both Wales and in Catalunya.