Get unlimited access for free
You have 10 articles remaining to view this month.
Aleix Espargaro says Aprilia's 2019-spec MotoGP bike is the model the team should have had last season, in the wake of an encouraging pre-season test at Sepang.
Espargaro endured a troublesome 2018, believing the team chased a wrong development path, and scored 18 points fewer than in his first campaign with the team.

Espargaro cut an upbeat figure during MotoGP's opening test at Sepang, lifted by his belief that the new bike is more comparable with the 2017-spec RS-GP.

"The '18 bike was completely out of the way," said Espargaro, who placed seventh on the combined leaderboard.
"I don't really know still why we did that bike, but the '19 bike is an evolution of the '17, it goes on the [same] direction.
"I like [it], and this bike is the bike I was expecting last season.
"I feel great on the bike, especially my [riding] position, I can ride aggressively when I put on the new tyre and I ask to go on the limit.
"This means that I feel good on the bike. The first thing is to have a bike that allows you to be comfortable and from now on we can build something better.
"I am happy because we controlled the situation really well. We were working [hard] trying many different electronic packages.
"And when we worked with really used tyres with a full tank, to prepare the race simulation, we did a really good simulation, so I was happy."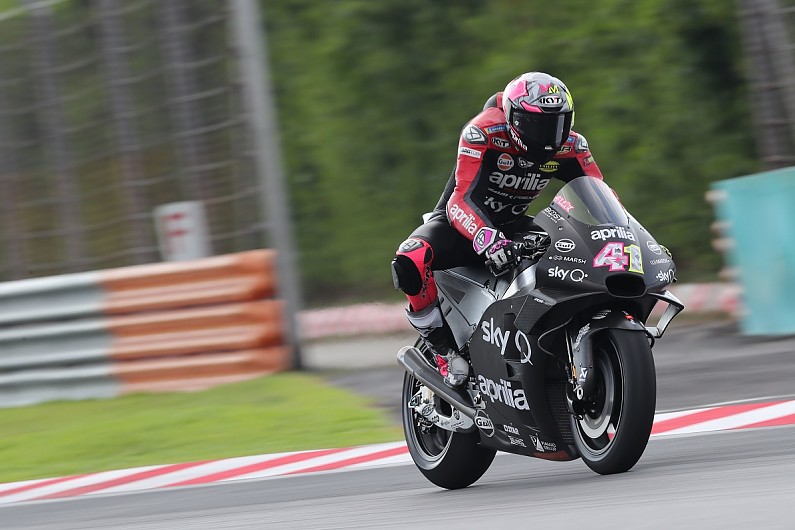 Espargaro added that the missing ingredient Aprilia still needs is a more powerful engine.
"The next step for me is to find more power, because we worked a lot in the electronics package and we compared a lot of data to do with my riding style, my acceleration," he said.
"I think we have a really good chassis but when you see the top four guys with the Ducati, the strongest engine on the grid, it is clear, in MotoGP you need power.
"I think we have a good base and from here we have to find more power."
Espargaro will be partnered by Andrea Iannone at Aprilia this season, with tester Bradley Smith poised for five wildcard outings.