Reigning MotoGP champion Marc Marquez says rival Andrea Dovizioso answered his prayers by setting a slow pace out front in the Qatar season opener.
Dovizioso beat Marquez in a photo-finish in Qatar for the second year running.
The Ducati rider led 18 of the 22 laps and kept the lap times at around 1m56s – over two and a half seconds slower than Maverick Vinales' pole time – for most of the race, before speeding up towards the end.
Marquez said that saved him and Honda because he had been struggling with both tyre wear and his physical condition following winter surgery.
"I prayed before the race to have a slow pace, and Dovi gave me a slow pace," he said.
"It was a very strange race. It was a very slow pace, but for me it was better, much better, because I was struggling to save the rear tyre, but also the front – and I think the others didn't have the problem with the front.
"We survive with 20 points at a circuit that we struggled a lot.
"[On Saturday] two crashes, I was very fast in three-four laps but then I was destroying the front tyre.
"We survive and this is most important."
Marquez, who is still recovering from surgery to fix his left shoulder in December, said the slow race also helped ensure he had no physical issues to worry about.
"Of course for my physical condition the race was easy, because the pace was very slow in the beginning."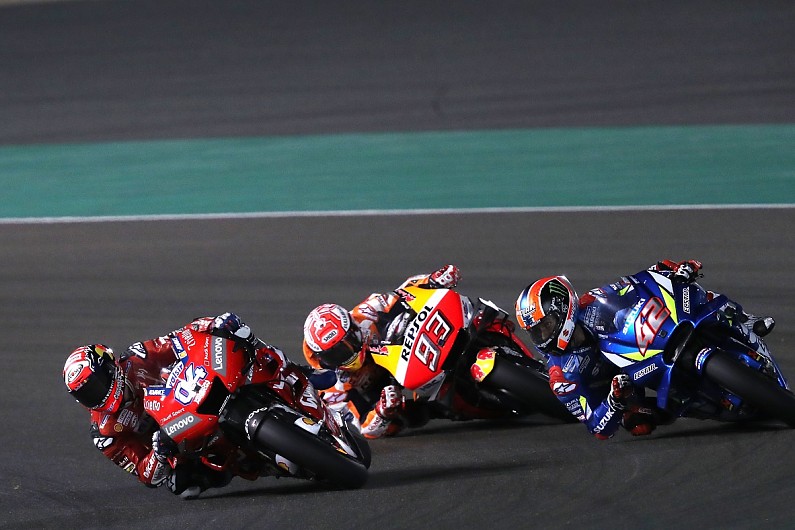 The five-time MotoGP champion ran the medium front tyre in the race, as the hardest compound – which is his usual preference – did not work well in the colder conditions in Qatar.
He said the tyre was the main factor in him losing out in the drag race to the chequered flag against Dovizioso for a second year running, not the Honda engine.
"No, no, the engine gave me the second position," he insisted.
"Believe me, last year I had better pace and last year I felt better on the chassis side, but it's only because the front tyre allocation was different. And I was able to use the hard one.
"This is something that I don't complain [about] – in some races it will be better for us, in some races it will be better for the other manufacturer.
"It was very, very cold and then I was not able to use the hard front tyre. And last time I used the medium one here, I finish fifth.
"The engine give me that extra to finish in second place."