Felix Rosenqvist has revealed he was effectively driving one-armed for much of his impressive IndyCar debut for Ganassi in St Petersburg due to a trapped nerve.
Rosenqvist finished fourth in the season opener, having outqualified his reigning champion team-mate Scott Dixon to take third on the grid and then led after a restart pass on Will Power.
"This was the toughest race I've ever done," Rosenqvist said.
"I'm knackered. Driving like this for over two hours between the walls, with every second counting and with no power steering, is a real physical and mental challenge.
"To add to that, I trapped a nerve in my right arm and had to drive the last 40 laps basically with just one arm.
"I'm glad I've stepped up my training this winter and I'm proud to have achieved what I did.
"We've got a great platform to build on for the rest of the season."
Rosenqvist fell to fourth during the second round of pitstops – a slow exit dropped him back behind Power, and then eventual winner Josef Newgarden and Dixon leapfrogged them both by running longer.
"I lost a little bit in the pitstops – pit-out, mainly," Rosenqvist told Autosport.
"At the first stop I couldn't get it into gear, and then on the second stop I came out and went side by side with Power.
"I thought maybe he could have given me more room, but I honestly don't know what the rules are there. No problem."
He revealed his move on Power at the earlier restart was planned, but he was caught out by how slippery it was off-line.
"There was a massive amount of rubber marbles on the straight off-line, even after five laps," said Rosenqvist.
"As I got the run on Power and pulled out, I heard my tyres picking up more and more rubber and as I went on the brakes it wasn't stopping.
"It was still calculated because I started braking really early, but I guess it looked really dramatic because I locked my front wheels. It didn't flatspot them – the lock-up just cleaned all the marble shit off the tyres! So that was good."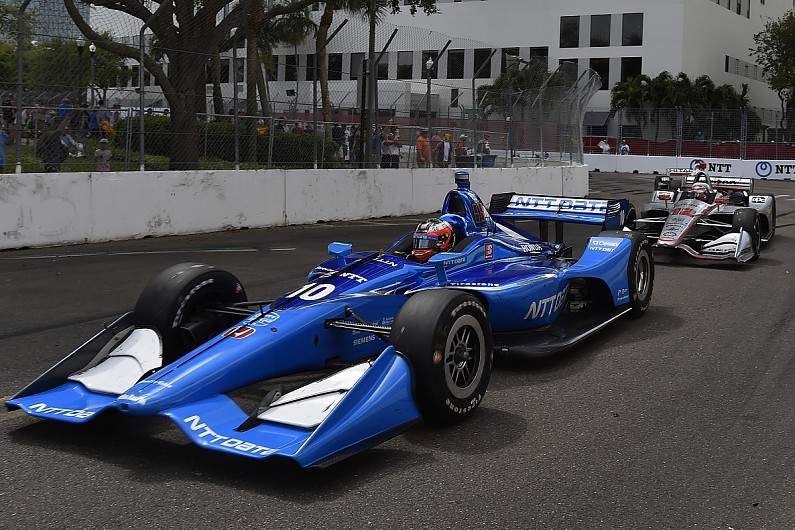 Power felt losing out to Rosenqvist in that battle was the main reason he could not convert his pole to victory. He finished third.
"I felt we were quicker than Rosenqvist and we could have pulled a big gap, but unfortunately I lost that position and I was stuck there," said Power.
"I just had to do everything I could on out-laps after I had to pit earlier than everyone, and third was as good as I could possibly do."
Rosenqvist declared himself "reasonably satisfied and pleased" with his debut overall.
"I suppose I'm a little bit disappointed to not be on the podium but you can't win them all," he added.
"We're here to learn and score good points every race and that's what we did and we showed we mean business."